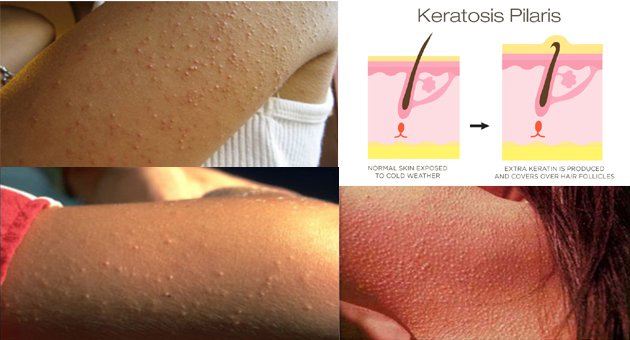 Sour Cream or Milk for Keratosis Pilaris
Sour cream and milk both contain lactic acid. This acid helps exfoliate your skin and thus removes the keratin buildup. You can mix the cream with sugar to get an excellent scrub for exfoliating your skin in order to get rid of keratosis pilaris.
Get this:
Sour cream- 2-3 tsp
White or brown sugar (granulated)- 1-2 tsp
Do this:
Combine both the ingredients.
Apply this to your affected skin.
Rub gently for few minutes
Leave for about 2-3 minutes.
Wash off with lukewarm water.
Repeat 2-3 times a week.
If you intend to use milk, add 2-4 cups of milk to your bath water and soak in it for 10-15 minutes.
Wattle Bark for Keratosis Pilaris
Inner bark and gums of wattles have therapeutic effects due to the presence of tannin. These barks are traditionally used for treating diarrhea and they also soothe inflamed skin. Sometimes, these barks are also used for skin conditions like keratosis Pilaris, not only because they soothe inflammation but also because they can make the skin smooth. These barks also contain Gallic acid that has antioxidant properties. Its melanogenesis inhibitory action can treat Keratosis Pilaris effectively.
Get this:
Wattle Bark liquor
Do this:
Apply wattle bark liquor on your affected skin topically.
Lavender Oil for Keratosis Pilaris
There are many essential oils that can treat keratosis pilaris effectively. One of such oils is lavender oil. It not only softens the skin by moisturizing it but also soothes the inflammation. Always use essential oils after diluting them in carrier oils. In fact, you must conduct a patch test on your skin to find out the suitability of essential oils for your skin.
Get this:
Lavender essential oil- 1-2 drops
Carrier oil (coconut/olive/almond oil)- 1 -2 tbsp
Do this:
Add the lavender oil to your choice of carrier oil and mix well.
Apply this oil mixture to the affected area
Leave it for 10-15 minutes
Wipe it off with cotton ball, if needed.
Repeat 1-2 times a day
Tea Tree Oil for Keratosis Pilaris
Tea tree oil has been known for its anti-bacterial, anti-fungal and anti-inflammatory properties. As such, it can be effectively used to treat keratosis pilaris as well. However, because tea tree oil is a very strong oil, you need to use only a drop or two of it along with some carrier oil and other ingredients good for relieving the symptoms of keratosis pilaris.
Get this:
Tea tree oil- 1-2 drops
Carrier oil (coconut/olive/avocado oil)- 1-2 tbsp
Aloe vera gel (optional)- 1 tsp
Do this:
Mix all the ingredients well
Apply the mixture to affected area.
Massage the area gently and thoroughly for a good 10-15 minutes. If needed, take some more mixture.
Wipe off the residue on your skin, if any, using a cotton ball or a clean cloth.
Repeat it daily or 2-3 times a week.
Take Sunshine to Get rid of Keratosis Pilaris
This is perhaps the easiest remedy for keratosis pilaris. Sunshine will help in synthesis of vitamin D, one of the invaluable nutrients for skin. This vitamin D, in turn, will help slough away the keratin buildup that shows up in form of hard patchy skin plugs.
Do this:
Take sunshine for about half an hour daily.
You may like to be in sun in the morning or evening hours. Avoiding the harsh sun rays from 11 AM to 4PM seems to be the wisest thing to do.
These were some of the home remedies to get rid of keratosis pilaris. If you are lucky enough, you would soon find the remedy that suits you best. Be well, be healthy!