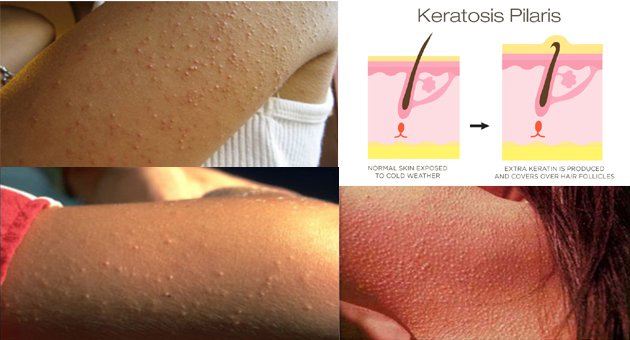 Aloe Vera for Keratosis Pilaris
If you have keratosis pilaris and also eczema, you can consider using aloe vera. It is seen that people with eczema are prone to have other skin conditions like keratosis pilaris. This miraculous herb called aloe vera has soothing gel in its leaves that contain vitamins and minerals. These nutrients can ease eczema and psoriasis flare-ups effectively. However, do not use those aloe vera gels that come loaded with fragrances and dyes. Go for pure aloe vera gel, if possible, get it directly from aloe leaf by scraping the inside of the leaf.
Get this:
Do this:
Wash your skin affected with keratosis pilaris.
If needed, exfoliate the skin and again wash off and pat it dry.
Take the aloe vera gel and apply it generously all over your skin.
Let it sit there for about 5-10 minutes.
Now gently rub the gel over your skin for another couple of minutes.
Wipe off the excessive gel with a cotton ball or a clean cloth.
Don't try to wipe off all the gel. Let some of it remain there on the skin.
You can use aloe vera gel on your skin as many times as you wish to.
Yogurt for Keratosis Pilaris
Yogurt has two fold benefits when it comes to keratosis pilaris treatment. It reduces the inflammation and it also helps break down the keratin buildup, thanks to lactic acid present in plain yogurt. It is also a good moisturizing agent and therefore helps remove the excessive dryness of the skin.
Get this
Plain yogurt
Do this:
Take the plain yogurt (never use flavored or sweetened yogurt) and rub it all over the skin which is affected by keratosis pilaris.
Let it sit on your skin for about 10-15 minutes.
Now, take a shower with cold or lukewarm water (never with hot water)
Apple Cider Vinegar for Keratosis Pilaris
Apple cider vinegar has anti-bacterial properties and is well known for its anti-inflammatory properties too. It contains good amounts of calcium, magnesium and iron that nourishes skin from within. Therefore, its a good idea to have 1-2 tbsp of apple cider vinegar daily, mixed in 1 glass of water. If you can't do so, apply it topically to your keratosis pilaris affected skin. Here's how
Get this:
Apple cider vinegar (ACV)- 2-3 tbsp
Water (optional)- 1/2 cup
Cotton ball
Do this:
Soak the cotton ball in apple cider vinegar
Apply this to your affected skin.
If you have a sensitive skin or your skin burns a little when you apply pure apple cider vinegar, dilute it with water.
After diluting, apply the solution in the same manner with the help of cotton ball.
Oatmeal for Keratosis Pilaris
Oatmeal is not only a healthy food for your body, it also soothes the dry itchy skin perfectly. In fact oatmeal scrub is often described as one of the best remedies for dry skin as well as skin related conditions such as keratosis pilaris.
Get this:
Oatmeal- 1-2 tbsp
Warm water
Do this:
If it is not a powder, grind the oats to get fine oatmeal powder.
Add water to this oatmeal and form a paste.
Apply this paste over the skin affected by keratosis pilaris
Let it sit there for 15-20 minutes.
Wash it off with lukewarm water.
Moisturize your skin.
If you have red bumpy patches all over your body or on major parts of your body, you can consider having bath with oatmeal water. For this take 1-2 cups of ground oatmeal powder. Add this to your lukewarm bath water. Soak in this water for 10-15 minutes. Pat dry and moisturize your body properly.
Epsom Salt for Keratosis Pilaris
Rich in minerals, Epsom salt has been a beauty treatment for ages. In case of skin conditions like keratosis pilaris where hard skin clogs the skin pores, Epsom salt becomes even more beneficial. It works to soften the hard skin as well as reduces redness and inflammation to give you smooth skin. Not only this, Epsom salt has this property of drawing out the toxins from within the skin. So, you can detoxify your skin while you treat keratosis pilaris at home with Epsom salt.
Get this:
Epsom salt- 1-2 tbsp
Olive oil- 1-2 tbsp
Do this:
Combine Epsom salt and olive oil to make a paste.
Apply this to your affected skin.
Rub it gently to scrub away the dead skin cells.
Keep on scrubbing for few minutes, 4-5 minutes, at least.
Wash off with water.
Moisturize properly. You can even use coconut oil for this purpose.
Repeat this 1-2 times a week.
Alternatively, you can take Epsom salt bath, especially if keratosis pilaris has affected large areas of your body. For this, add 1 cup of Epsom salt to your bath water and soak in this for 15-20 minutes. Pat dry and moisturize properly.
Vitamin E Oil for Keratosis Pilaris
Vitamin E oil has been, undoubtedly, accepted as one of the best oils for skin. It not only helps retain moisture in your skin but also helps repair the skin. It actually makes your skin smooth and soft by providing proper nourishment to the skin.
Get this:
Vitamin E oil – few drops OR Vitamin E capsule
Do this:
If using the capsule, puncture it to get the vitamin E oil trapped in it.
Apply the oil to your skin and rub gently till it gets fully absorbed into the skin.
That's all you need to do.
Repeat this multiple times a day.
You can even add vitamin E oil to your bath water and soak in it for 15-20 minutes.
Have more foods that are rich in vitamin E such as nuts.