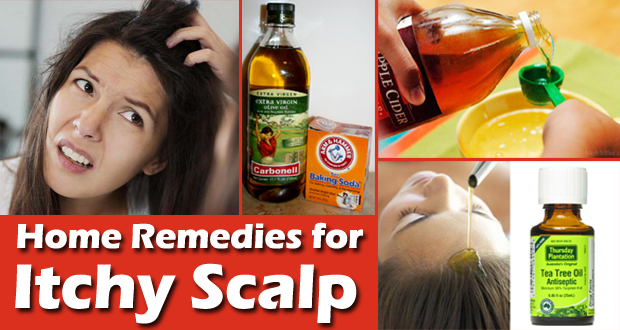 If you can't stop the urge to itch your scalp now and then, you need to give it a serious thought! Itchy scalp is not only uncomfortable and embarrassing in some social situations, it is also a health hazard for your scalp and skin. You scalp can become itchy due to fungus, ringworm, yeast, and even parasites, the popular lice. If not due to these microbes or lice, your itchy scalp might have been caused by dandruff or dry skin. Sometimes, its serious too as it can be caused by psoriasis or seborrheic dermatitis that displays itself as red patches with large, yellow, greasy scales that may form crusts in your scalp. If not controlled on time, this may affect your face as well as the ears, armpits, groin, and even chest! The less severe causes for itchy scalp include improper cleaning, washing and exfoliation. Your scalp may also react to some products like a shampoo or other things that you use on your hair. If your diet lacks vitamins B and D as well as good fats and zinc, then also you may suffer from itchy scalp.
When you go to your doctor, he will prescribe anti-fungal medicines as well as anti-fungal shampoos etc or other medicines and supplements based on the cause behind your itchy scalp. The good news is that there are many natural ingredients that may help you get rid of itchy scalp. These home remedies for itchy scalp tell you about such natural things.
Home Remedies for Itchy Scalp
1. Tea Tree Oil- The Best Home Remedy for Itchy Scalp
For centuries, tea tree oil has been used for dandruff, dry hair and itchy scalp and not in vain! The the component terpinen-4-ol gives tea tree oil its strong antibacterial, anti-fungal and anti-inflammatory properties. It kills the fungus and bacteria that cause over production of skin cells leading to dandruff. It also clears clogged hair follicles to relieve you of an itchy scalp.
Ways to Use Tea Tree Oil for Itchy Scalp
If you can stand the strong composition of tea tree oil, use it undiluted. Take 5-10 drops of this oil and gently massage into your scalp.
If your skin is too sensitive, dilute tea tree oil with some baby shampoo. Add 10-20 drops of tea tree oil to 1/2 cup of baby shampoo. Use this daily to wash your scalp and hair till you get rid of itchy scalp.
You can even massage diluted tea tree oil to your scalp. Add 2-3 drops of tea tree oil to 1 tablespoon of any carrier oil like jojoba, olive, coconut, or almond oil. Massage your scalp with this daily. Leave the oil mixture for 1-2 hours before you wash off hair with a mild shampoo.
If you want even easier method, buy tea tree oil shampoo, especially when your itchy scalp has started giving lots of trouble due to dandruff. When you apply this shampoo to your scalp, wait at least for one minute before washing it off with water. Use it daily or every other day to cure itchy scalp.
You can also make a tea tree oil rinse. Add 5-10 drops of tea tree oil in water enough to rinse your scalp and hair. After shampooing, wash your hair with this water. Use this water as the last rinse. You can use normal water to properly wash away the shampoo and then use this tea tree oil mixed water.
[Also Read: Simple & Effective Home Remedies for Dry Hair]
2. Aloe Vera Soothes Itchy Scalp
Aloe vera gel has antipruritic property which means it can relieve itching. Aloe gel has glycoproteins in it. Among its varied functions, these glycoproteins also moisturize well as they are a great lubricant and protective agent. Not only this, aloe vera gel also has antibacterial and antifungal properties to treat your scalp against fungi and yeast. When you apply aloe vera gel to your scalp, it is deeply absorbed by the scalp as it also contains lignin. As if all these were not enough, the enzymes in aloe vera gel also exfoliate the dead skin cells and the amino acids in it facilitate growth of healthy tissue. It thus gives you a clean scalp with strong and shiny hair.
How to Use Aloe Vera Gel for Itchy Scalp
Get this:
                 Or
Do this:
If you have an aloe leaf, cut a slice from it and slip open with knife.
Take out the inner gel from it.
Wash your hair with shampoo and warm water so that no dirt or oil is left there.
Take about 1 tbsp of aloe vera gel.
Massage this into your scalp.
Leave it there for 5-10 minutes.
Rinse your hair.
3. Sesame Oil Remedy to Treat Itchy Scalp
Sesame oil may help you fight off scalp dryness to relieve itchiness. It has soothing and tranquilizing properties. Sometimes when heat, like sunburn, damages your hair follicles, sesame oil can come to your rescue and work as a coolant functioning from within. It locks the moisture within and thus prevents dryness. If your itchiness is due to lice, then also sesame oil can help you through its anti-bacterial properties. You may add it to other essential oils to treat head lice and get rid of itchiness.
How to Use Sesame Oil for Itchy Scalp
Get this:
Sesame oil- 1-2 tbsp
Lemon juice (optional)- few drops
Hot towel (optional)
Do this:
Heat the sesame oil to make it warm (not hot).
Massage some warm sesame oil into your scalp for about 10 minutes before you go to bed each night.
After massaging, you may wrap your head in a hot towel and leave for another 10 minutes before you go to sleep. However, this is an optional step. You may omit using hot towel as a wrap.
If using a hot towel, remove the towel and let the oil be there overnight as it will moisturize the area very well.
Wash your scalp and hair in the morning.
Do this daily till you get relief from itchy scalp.
You may also add some lemon juice to warm sesame oil before you massage it into your scalp. This will add to the dryness treatment of your scalp.
4. Coconut Oil is a Good Remedy for Itchy Scalp
Dry itchy scalp is greatly benefited by coconut oil as it moisturizes skin very well and may also help reduce redness and irritation. The antibacterial properties of coconut oil combats folliculitis, an infection of the hair follicles as well as other fungal infections like ringworm of the scalp. These are major causes of itchiness as discussed earlier too. Coconut oil not only soothes your itchy scalp caused by dandruff but may also soothe cradle cap in babies. It is a safe oil to use for babies too. You can in fact use coconut oil not only to treat itchy scalp but to prevent it altogether. When you wash your hair daily, the sebum is lost leading to dry, frizzy hair. When you use coconut oil, it acts as a protective barrier to keep your hair soft and silky and free of itchiness too!
How to Use Coconut Oil for Itchy Scalp
Get this:
Do this:
Heat the oil to make it warm (not hot). This is optional though. Coconut oil at normal temperature also works well. Heating becomes rather essential when the coconut oil is in solid state. However, whenever you take it in your hands, it melts due to body heat too.
Massage the oil into your scalp and the hair roots.
Do this for at least 10 minutes.
Wrap your head in a towel or a shower cap and let the oil soak in for 2-3 hours.
You may also leave it overnight.
Wash off with shampoo and water.
5. Lemon Juice Treats Itchy Scalp Well
The low pH of lemon juice makes it an excellent antibacterial agent and that's why if your itchy scalp is the result of some microbes, it can help you. Lemon juice can thus treat your itchy, dry scalp. However, do not use it if your skin is broken as this may cause stinging.
Ways to Use Lemon Juice for Itchy Scalp
Take 2 tablespoons of lemon juice and massage this directly into your scalp. Now rinse with water. Now take one more teaspoon of lemon juice and mix this in one cup water. Rinse your hair again with this solution. Do this daily till you get rid of itchy scalp.
Or you may simply apply fresh lemon juice on your scalp. You may even dilute the lemon juice with some water, particularly when you don't suffer from dandruff. Leave it there for about 5-10 minutes and then wash your hair with shampoo.
There is one more way, mixing lemon juice with yogurt. Add about 5-10 drops of fresh lemon juice to 2-3 tablespoons of yogurt. Apply this to your scalp, leave for 5-10 minutes and wash off with a mild shampoo. Repeat daily till you get rid of itchy scalp and dryness there.
6. Baking Soda to Get Rid of Itchy Scalp
As told above, lack of exfoliation too leads to itchy scalp by building up dead cells and skin flakes etc. Baking soda is a known exfoliating agent that excellently cleans your skin, of your scalp too. Additionally, the alkaline nature helps balance the pH level of your scalp to relieve you of itchiness.
How to Use Baking Soda for Itchy Scalp
Get this:
Baking soda- 2-3 tbsp
Water
Olive oil- 1-2 tbsp
Do this:
Massage your scalp well with olive oil.
Now mix a little water in the baking soda to make a paste.
Apply this to your itchy scalp.
Wait for about 15 minutes.
Now wash off with water.
7. Apple Cider Vinegar Remedy for Itchy Scalp
Apple cider vinegar also balances the pH levels of your scalp which helps relieve itching and dryness there. It disinfects your scalp by killing fungus causing dryness. Due to its anti-inflammatory properties, the vinegar also reduces the inflammation resulting from dry and itchy scalp. The acetic acid in apple cider vinegar also makes it a natural cleanser that removes the buildup on your scalp. It not only opens up the clogged pores but also acts as a mild conditioner to give you shiny hair. What more, the alpha hydroxy acids in apple cider vinegar exfoliates well the top layers of your skin and cures even scalp psoriasis!
Ways to Use Apple Cider Vinegar for Itchy Scalp
Add 1/4 cup of apple cider vinegar to 1/4 cup of water. Pour this solution into a spray bottle. Now spritz your hair and scalp with it. Thoroughly saturate your scalp and then wrap your head using a towel. Leave it for 30 minutes to 1 hour. Then wash off with water.
If you suffer from itchy scalp due to excessive dryness, try this. Wash your hair with water. Take apple cider vinegar in a bowl and dip a cotton ball or wash cloth in it. Now apply the solution to your scalp thoroughly. Leave it for 15-20 minutes and then wash off.
Add a handful of rosemary to three cups of water and bring this to a boil. Then simmer it on low heat setting for about 30-45 minutes. Strain and let it cool down. Once it cools down, ass half a cup of apple cider vinegar and 10 drops each of rosemary and peppermint essential oils. Mix well and pour this solution into a spray bottle. Spritz the hair and scalp with this after washing hair with shampoo. Wait for a minute and wash off with water. It will moisturize your scalp and relieve you of dryness that causes itchy scalp.
8. Banana Avocado Mask for Itchy Scalp
If excessive dryness and dandruff is the root cause of your itchy scalp, try some nourishing fruits and make moisturizing masks with them for your hair and scalp. One of such mask is made with banana and avocado. Bananas not only cure itchy scalp but also condition your hair. The excellent nourishing and moisturizing properties of bananas treat dandruff and inflammation so that you get rid of itchy scalp. The same can be said for avocado too. The various nourishing elements of the fatty avocados moisturize your scalp and hair to cure itchy scalp. When these two are combined with each other, they work wonder for your scalp health.
How to Make Banana Avocado Mask for Itchy Scalp
Get this:
Bananas- 1-2
Ripe avocado- 1
Do this:
Mash the bananas and the ripe avocado.
Mix them both well.
Apply this to your hair and scalp.
Let it be there for about 30 minutes.
Wash off thoroughly with shampoo and water.
9. Onion Juice for Itchy Scalp
Onion juice has been traditionally used in many countries to stimulate hair growth, especially by Ayurveda medicine from India. It has natural components that help stimulate the hair follicles as well as cleanse your scalp. It also stimulates blood circulation and leads to strong and healthy hair roots. It can particularly relieve itchy scalp caused by dandruff due to its natural anti-bacterial properties. Its anti-fungal properties are very effective against dandruff as well as ringworm. It also provides your scalp with certain important nutrients like vitamins C & B6, potassium, magnesium, germanium and sulfur. We have earlier read that deficiency of certain nutrients too cause itchy scalp.
[Don't Miss – How to Prevent Dandruff Naturally?]
How to Use Onion Juice for Itchy Scalp
Get this:
Onions-1-2
Olive oil (optional)- 1-2 tbsp
Do this:
Grind or grate the onions and then extract their juice.
Take about 2-3 tbsp of onion juice.
Apply this to your scalp thoroughly.
If however, the undiluted onion juice seems to be very strong and you can't stand its smell, mix it with some olive oil and then massage it into your scalp.
Leave it for about half an hour.
Wash off with shampoo and water.
10. Banana-Honey-Onion Juice Mask for Itchy Scalp
Honey has been known as a great natural moisturizer which contains such enzymes that help lock in the moisture wherever you apply it. When you apply this to your scalp, you well be assured to treat dryness without any worry as it also has natural antibiotic properties. This mask also uses banana and onion juice, both of which have been seen as beneficial ingredients for itchy scalp in our earlier remedies.
How to Make Honey-Banana-Onion Juice Mask
Get this:
Ripe banana- 1
Onion juice – 2tbsp
Honey- 2 tbsp
Do this:
Mash the banana.
Add onion juice and honey to the mashed banana.
Mix well and apply this mask to your scalp.
Leave for about 20 minutes.
Then wash off your hair with water and shampoo.
Do this daily or 2-3 times a week till you get rid of itchy scalp.
11. Lavender Oil for Itchy Scalp
There are many essential oils that have many properties to cure itchy scalp. One of such oils is Lavender oil. Lavender oil is highly absorbable oil. It can be thus be metabolized by your body very fast. This makes lavender oil good therapeutic oil for various diseases including dry, itchy scalp.
How to Use Lavender Oil for Itchy Scalp
Get this:
Lavender essential oil – 5 drops
Jojoba oil- 1 tsp
Do this:
Mix lavender essential oil with jojoba oil
Apply this thoroughly to your scalp.
Massage the oil mix into your scalp for about 15 minutes.
Leave for about 5-10 minutes.
Wash your hair and scalp with a mild shampoo.
12. Eucalyptus Oil for Itchy Scalp
Eucalyptus oil has natural antiseptic and antifungal properties that can help combat infections. It also prevents building up of residue to prevent clogged pores so that you may not face the problems of dryness, dandruff and itchy scalp. It also relieves symptoms related to mild psoriasis.
How to Use Eucalyptus Oil for Itchy Scalp
Get this:
White vinegar- 3-4 tbsp
Eucalyptus oil- 1 tsp
Water- 4-5 cups
Do this:
Combine vinegar, eucalyptus oil and water. Mix well
Now rinse your hair with this solution in a way that the solution thoroughly covers your scalp.
Wash your hair with a mild shampoo and water.
13. Neem Oil for Itchy Scalp
The herb Neem or the Indian Lilac has been used since ages by Ayurveda to relieve intense itchiness of scalp. The excellent anti-fungal, anti-bacterial and anti-septic neem oil's medicinal property prevent building up and release of histamine and thus cures inflammation.
How to Use Neem Oil for Itchy Scalp
Neem oil- 4-8 drops
Carrier oil (optional; coconut or olive oil)- 1-2 tsp
Do this:
Massage the neem oil directly into your scalp.
You may also dilute it with carrier oil and then massage this into your scalp.
Leave for about 15 minutes.
If lice is causing itchy scalp, let the oil remain in your hair for about an hour. Also do not dilute it in such a case.
Wash off with mild shampoo and water.
You may also mix 2 to 3 drops of neem oil to your shampoo every time you wash your hair.
14. Essential Oils Blend to Cure Itchy Scalp
You can even blend all the beneficial oils and get the maximum benefit from them. For example, you can mix the above three oils- lavender, eucalyptus and neem oil- and massage your scalp with this. You may even use other essential oils to get relief from severe itchiness. Here is one such recipe of essential oils blend to relieve intense itchy scalp. This soothing blend is particularly useful for itchy scalp caused by psoriasis.
Get this:
Neem oil- 2-3 drops
Tea tree oil- 4-5 drops
Rosemary oil- 2-3 drops
Lavender oil- 1-2 drops
Carrier oil ( olive, almond, wheat germ or coconut oil)- 3 tsp
Do this:
Take all the essential oils. Combined they should make 1 tsp of essential oils blend.
Mix this 1 tsp of essential oils to your choice of carrier oil.
Gently massage your scalp with this oil.
Leave it for as long as you want and then wash off with mild shampoo and water to get rid of itchy scalp.
Some More Tips to Reduce Itchy Scalp
Its better to avoid having itchy scalp in the first place so that you don't need to use home remedies. Below are given some tips to prevent dry, itchy scalp.
1. Keep changing your hair products
When you use certain product for a long time, it leads to a build up on your scalp. This may be partly due to the stubborn chemicals or other components in the products that won't leave the scalp howsoever effectively you wash your hair. So, always change your hair cosmetics like shampoo, conditioners, oils, hair gels etc. When you switch to a new product, try it for at least 15-20 days before forming any opinion about its further use. If your skin or scalp is too sensitive, you can even opt for baby shampoo as they are generally very mild and you won't face any problem of dry scalp when you use such a gentle shampoo.
2. Buy alcohol and chemical free hair products
If your shampoo contains alcohol, it will dry out your scalp giving rise to an itchy scalp. While it is a good habit to change shampoo and other hair cosmetics often, it is equally important to buy alcohol free products. You should also avoid applying chemicals to your hair. At least, choose those products which are made of less chemicals
3. Dry hair properly after a wash
Whenever you wash your hair, dry it out thoroughly. If you tie up your damp hair, it will lead to residue buildup on your scalp. Damp and moist environment is a breeding ground for microbes like fungus. If you don't want any fungal infection of scalp, dry your hair properly every time.
4. Brush hair regularly
Brushing hair helps in proper blood circulation which means healthy hair and scalp too. Also, when you brush, you help the natural oil secreted from hair follicles distribute evenly all over the scalp. This prevents build up. So, you don't face the problems related to clogged pores or dandruff etc. This in turn saves you from itchy scalp.
5. Protect your head against sunburn
When you take care of your face and skin of other body parts, why not think about scalp? Yes, it too gets affected by sun and sunburn of scalp is sure to give you an irritating itch along with other discomforts. Cover your head with scarf, hat, cap or an umbrella whenever you go out in sun. This is particularly important if you frequently suffer from sunburns.
6. Keep your hair and scalp clean of lice
Lice have already been discussed above in the remedies section as a cause of itchy scalp. However, you also need to know if you don't take enough care to keep your head clean, you may be making your head a breeding ground for lice. They feed on the dead skin cells and all the debris and residue of build up. Wash your hair regularly and dry it out thoroughly to keep away the lice. If, however, you notice lice or its eggs in your hair, take measures to clean them off with remedies, medicines etc. Medicated shampoos for lice can also be useful in such a situation.
7. Pay attention to your diet to prevent Itchy Scalp
Poor dietary habits too lead to a dry skin, itchy scalp as well as dandruff. When you don't get enough essential fatty acids, especially omega 3 fatty acids, you may suffer from dry skin and itchy scalp. Apart from that, you also need other nutrients like vitamins and zinc etc. Here is the list of what you should include in your diet so as to prevent dry itchy scalp.
Foods with omega-3 essential fatty acids like salmon, mackerel, tuna and sardines. Vegetarian sources may include walnuts, flax seed, pumpkin seeds and canola oil.
Foods rich in Vitamin A like eggs, butter and other dairy products, sweet potatoes, squash, carrots, cantaloupe and papaya etc.
Foods rich in B vitamins like meat, poultry, dairy products and vegetarian foods such as whole grains, potatoes, beans and leafy greens.
Foods with vitamin C like citrus fruits, strawberries, green peppers, Brussels sprouts and spinach.
Foods having zinc such as meat, poultry, seafood, whole grains and nuts.
All these foods are essential to maintain hair, nails and skin including scalp.
8. Keep yourself hydrated
You need to drink lots of water to keep yourself hydrated. As you might be knowing, lack of water in body can result into dry skin, not to mention dry scalp too.
9. Take vitamin E to cure excessive dryness
Vitamin E should also be included in your diet as it is a very important nutrient for skin health. This vitamin is present in fatty foods like vegetable oil, wheat germ, nuts, seeds etc. You may even take supplement of vitamin E to keep your skin and scalp healthy and to avoid dryness. You can also look for a shampoo having this vitamin E.
10. Avoid stress to avoid itchy scalp
In fact, stress leads to hair loss and itchy scalp is only a symptom for such a condition. When you face psychological or physical stress, your hair begins to fall in clumps. This is a temporary condition and is known as telogen effluvium. When this happens, you may notice more hair in your brush or your scalp may feel itchier and more sensitive. This is due to the over production of certain hormones as well as release of pro-inflammatory chemicals. Telogen effluvium may last anywhere from two to six months but your hair follicles can take up to more than one and a half years to completely recover. The key to prevent this condition is to avoid stress. For this, you may exercise daily. This may include yoga or aerobics or anything that makes you stressfree. Meditation, deep breathing, walking, swimming, gardening or even developing a new hobby can relieve stress to a great extent.
11. Get oil massage to moisturize hair
One of the best remedies for dry scalp is to regularly massage it with oil. It's even better if you do this massage with warm oil (not hot oil). This gives extra moisturization to your hair and scalp. Massaging also increases blood circulation to give you healthy scalp.
12. Don't use hot water to wash hair
Hot water pulls out all the moisture from your hair and scalp. This leads to dry and itchy scalp. If you can't wash hair with cold water, use lukewarm water but never use hot water to wash your hair.
13. Maintain basic hygiene to avoid itchy scalp
Washing your hair is not enough. You need to take extra care if you regularly suffer from dry itchy scalp. For example, you should regularly wash your bed sheets, covers and pillows. This is needed to avoid mites that also cause itching. Further, never use combs and brushes used by others. You should have a separate comb and hair brush so that you do not catch any infection from others. And if you feel itchy sometime, don't scratch. Try to take your attention away from your itching scalp and don't be tempted to scratch it. Scratching only makes the problem worse. If you can't control it, gently rub the site with your finger where it feels itchy but never scratch it with anything, not even with your nails.