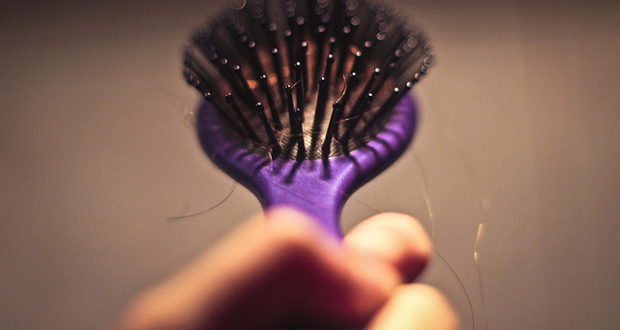 At last Gentleman, you have noticed the receding hairline on your forehead! And you lovely lady, why are you so worried about your thinning hair? There are a good lot of ways that can stop your hair loss trend and bring back good volume to your "head-crown!" I am going to give away 15 sure-shot ways to prevent hair loss so that you can then work upon your hair growth regime to bring back your crowning glory! But before that take notice of a fact related to your hair loss, it'll prove helpful to you.
Normal Hair Loss- nothing to worry about!
We all lose some hair strands each day. So, it's normal to see some hair coming off your scalp when you brush your hair daily. Normally we lose about 80-100 strands daily due to the end of life cycle of a hair strand. If that's the matter, you don't have to worry a lot. Just continue to have a stress-less healthy lifestyle including balanced diet. It's when you see an abnormal loss of hair that you should start taking measures to stop this. There are many causes of hair loss. You may lose hair due to some hormonal changes, unhealthy lifestyle, junk food devoid of nutritional value, stress, some medication, vitamins deficiency, thyroid problems, menopause etc. Whatever the causes, you should try to eliminate them first and then resort to these home remedies for hair loss.
Actual Hair Loss- Get, Set, Go….
Massage, massage and massage…
More and more people are adopting regular head massage to cure as well as prevent hair loss. Why is massaging your scalp so important? It increases blood flow to your scalp! When blood flow to the hair follicles increases, it conditions the scalp and strengthens the hair roots. The warmed up skin during massage opens up the blood vessels that help in the greater nutrient intake. Don't forget that hair is one of the important parts of your body that also needs sufficient nutrients to grow and remain strong. Proper conditioning through oil massage also prevents dandruff which is yet another cause of hair loss. Not only this, massaging is relaxing and it relieves you of stress, another cause of hair-loss. When hair massage is so beneficial, why not make it a regular habit of massaging hair twice or thrice a week? It will definitely prevent hair loss and make them healthy and shiny. But what oils to use for a head massage? I'll tell you.
Best Oils to Prevent Hair Loss:
These can be categorized into two, in fact, three groups- Herbal Oils, Essential Oils and Carrier Oils (also called base oils). Carrier oils are used to dilute essential oils before they can be applied to the skin for massage. That way, while you need to use carrier oils with essential oils, you can use natural herbal oils directly on your scalp for massage. Here's the list of herbal oils that you can use for head massage in order to prevent hair loss.
#1 Coconut Oil Massage
Coconut Oil is perhaps the best oil for preventing hair loss. This oil is used extensively in India and no one can doubt the quality of hair that Indian women possess. Coconut oil acts as sealant by preventing hair from losing its moisture. Apart from the fine nutrition that it provides to your hair, the lauric acid in coconut oil has antibacterial properties that keep away your scalp from infections.
#2 Olive Oil Massage
Olive Oil is rich in antioxidants and thus provide great nourishment to your hair. It also penetrates hair shafts better and prevents them from narrowing down by controlling the hormone called DTH. The extra virgin olive oil is best one when it comes to hair loss as it is rich in vitamin E and monounsaturated fatty acids that not only prevent hair loss but also promotes hair growth.
#3 Almond Oil Massage
Almond Oil is perhaps the most nutritious oil with its rich contents that include Vitamins E, D, iron, magnesium, calcium, and fats. In fact, almond oil can also be used a carrier oil when applying essential oils to the scalp. It gets absorbed slowly and deeply into the hair which makes it a perfect base for essential oils. This way you can get benefits of both- herbal as well as essential oil!
Now, it's the turn to know the essential oils that are best for preventing hair loss.
lavender, cedarwood, thyme and rosemary
#4 Lavender Oil Massage
Lavender Oil with its wonderful fragrance is beneficial for preventing hair loss due to its antioxidant nutrients as well as antifungal and antiseptic properties. This oil derived from lavender flowers treats dandruff as well as itching, controls hair breakage all to prevent hair loss. It deeply conditions the hair and also controls dandruff. Lavender oil is widely used to treat alopecia areata too. Alopecia areata is a condition when excessive hair is lost and that too in patches. In such extreme cases daily massage with lavender oil is required. Jojoba and grapeseed oils can be used as a base or carrier oil for any essential oil including lavender.
#5 Rosemary Oil Massage
Rosemary Oil, obtained from rosemary leaves, is yet another essential oil used to prevent hair loss even for acute alopecia great condition. This oil stimulates the hair roots and increases blood circulation in the scalp leading to hair growth too. Jojoba oil, grapeseed oil as well almond oil prove to be great carrier oils for rosemary oil. So mix it with one of any carrier oils and massage your scalp daily or weekly as per your hair loss status!
#6 Geranium Oil Massage
Geranium Oil, extracted from plant's leaves and stalks is good for both dry and oily hair. It basically works on the sebaceous glands on your scalp and helps in regulating the secretion of sebum. This, in turn, strengthens hair while making them smooth and silky. Carrier oils are same as for other essential oils- jojoba, grapeseed, almond or coconut oil.
#7 Super-Tip for Hair Loss…
This is something you'll love to massage your hair with. This is a lotion prepared with a variety of essential oils. First, I'll tell you how to make this lotion for hair loss prevention and then how to use it. You'll need the following ingredients in the exact measure as written below:
Rosewater- 50 ml
Distilled water- 50 ml
Apple cider vinegar- 15 ml
Rosemary Oil- 5 drops
Jojoba Oil- 6 drops
Carrot Oil- 3 drops
Geranium Oil- 3 drops
Now how to use this lotion to massage your hair to reduce hair fall!
Mix all the above oils and water and give a good shake.
After washing hair, dry your hair partially.
Now take some lotion, about 2 teaspoons, that you have prepared after mixing all the above oils and rose plus distilled water.
Rub this lotion gently on your scalp.
Store the rest of the lotion in the refrigerator.
When you take out the lotion again next day, you will see the ingredients in it separated.
Shake the bottle again.
Now apply as you did the previous day.
Massage your scalp daily with this lotion and see how you prevent your hair loss in only a few days.
Eat Right to Prevent Hair Loss
Without the strong foundation, any building can fall. Same is true with hair. If you don't provide right nutrition to your hair, they'll eventually fall. So, start eating and rightly so for your hair too. Here's what all you should include in your diet to prevent hair loss.
#8 Omega- 3 Fatty Acids
Why have Omega 3 fatty acids?
They can easily reach your hair scalp and cell membranes deep into your scalp. This provides nourishment to follicles which not only prevent hair loss but promote its growth. Secondly, they also make your hair more elastic so that they do not break easily. They also cure dry itchy skin, thus preventing dandruff.
What to have?
Flaxseeds
Walnuts
Salmon
Sardines
Soybeans
#9 Zinc Rich Foods
Why have foods rich in zinc?
Deficiency of zinc is one of the major causes of hair loss. Zinc builds proteins (so essential for hair growth), creates DNA and boosts tissue growth and repair. It also regulates hormones which include testosterone, high levels of which can lead to hair loss.
What to have?
Seafood like oysters and crabs
Lean Beef
Wheat Germ
Spinach
Pumpkin, squash and sunflower seeds
Nuts
Pork and chicken
#10 Protein Rich Foods
Why have protein?
Because our hair is primarily made up of protein. So, if you don't eat protein-rich food, you don't have hair. Protein deficiency can also lead to graying of hair.
What to have?
Milk, cheese, yogurt
Lentils
Seafood such as salmon
White meat- poultry
Eggs
Beans
Soy
Lean Beef
#11 Iron Rich Foods
Why have iron-rich foods?
Iron is the carrier of oxygen within your body. Its deficiency can mean less oxygen reaching your head and less oxygen means poor blood circulation which in turn will definitely lead to hair problems including hair loss.
What to have?
Egg yolks
Red meat
Dark leafy green vegetables
Dry fruits like prunes and raisins
Mollusks such as oysters, clams, scallops
Turkey
Beans, lentils, soybeans, chickpeas
Liver
#12 Vitamins A and C
Why have vitamins?
These vitamins help in producing sebum, the oily substance that is secreted by our hair follicles to prevent hair from breaking off. Vitamin C also improves iron absorption. However, don't go overboard. Excess vitamin A can even lead to hair loss. So have this vitamin in moderation.
What to eat for vitamin A?
Sweet potatoes
Carrots
Spinach and Collard greens
Swiss chard
Winter squash
Mustard greens
lettuce
What to eat for vitamin C?
Papaya
Bell peppers
Strawberries
Pineapples
Brussel sprouts
Oranges and Kiwi fruits
Broccoli
Kale
Use Herbs to Prevent Hair Loss
If your hair loss is acute and you think you take perfect diet then also are unable to prevent hair loss, some herbs may help you to overcome your problem. Some Indian, as well as Native American herbs, can prove to be good remedies for hair loss.
#13 Bhringaraj (Eclipta Alba)
This herb, Bhringaraj, is one of the main components of ancient Ayurvedic hair oils and hair tonics meant for preventing hair loss. It is the established Ayurvedic medicine to cure baldness and premature greying of hair too.
How to use Bhringaraj to prevent hair fall?
Get some Bhringaraj leaves and prepare a special hair oil through the below-mentioned method.
You'll need:
Bhringaraj plant/ leaves- 50gm
Coconut oil – 200 ml (you can also use sesame oil or any other oil as a base oil, but coconut oil is best for the purpose)
Fenugreek seeds – 2 teaspoons
Follow the below steps to make bhringaraj oil at home
Crush the leaves of Bhringaraj plant or grind it. However, doot make it a paste. They should be partially grounded.
Boil coconut oil in a pan.
Add the crushed Bhringaraj leaves and fenugreek seeds to the boiling coconut oil.
Let the mixture boil for about 10 minutes until when you see big bubbles formed in the oil.
Put off the flame and let the oil stand overnight in the covered pan.
In the morning, strain the oil into a glass jar or bottle.
Use the oil for massaging your head scalp- daily.
If you can't find Bhringaraj plants, you may even buy readymade bhringaraj oil sold in the market and even available online these days.
#14 Indian Gooseberry or Amla (Phyllanthus Emblica)
Amla, yet again an Indian herb is a rich source of vitamin C and iron. This herb is used since ancient times to prevent hair loss. You can also take advantage of this readily available herb.
How to use Amla reduce hair fall?
You'll need:
If your amla pieces are dried, you can use them directly otherwise dry them up in shade.
Boil Coconut oil
Add the dried amla pieces and let it boil for the time until it gets dark in colour
Put off the flame and let the oil get cool.
Take out the pieces of amla and use the oil for massaging your hair scalp.
Another way of using this herb is to soak the amla pieces in water overnight. It's better if you soak it in an iron vessel. Next day when you shampoo after oil massage, use this water to rinse your hair.
#15 Ghritkumari (Aloe Vera)
Not only Ayurveda but even the ancient Egyptian medicine used aloe vera to prevent hair loss. Aloe vera contains enzymes that can eradicate dead cells on our scalp so that they do not clog the hair follicles. Clogging of hair follicles prevents nutrients from entering the hair roots. Aloe vera's alkalizing properties also help in maintaining hair's pH level at optimum level promoting hair growth.
How to use aloe vera to prevent hair loss?
Prepare an aloe vera hair mask. You'll need:
Aloe vera gel extracted from aloe vera plant – Half cup
Castor oil- 2 tsp
Fenugreek powder- 2 tsp
Basil powder- 2 tsp
Mix all the above ingredients to get a thick mask.
Apply this gel mask to your scalp.
Cover your hair too with this mask.
Leave the mask on hair for about eight hours. If you can do it at night, it's better. Just wear a shower cap before going to bed.
Wash off this mask using a mild shampoo
Do this once a week for a few months to get a good volume of hair.
#16 Yucca Plant and Yucca Root Powder
Native American tribes use Yucca plant root for preventing hair loss. Yucca root and even yucca root powder can be obtained from grocery stores. You can make yucca root shampoo at home.
You'll need:
Yucca root powder- 1 tablespoons
Water- 2 cups
Mix yucca root powder with water and blend it, if possible in a food processor. You will get a foamy smooth liquid through this procedure which can be used to cleanse your hair.
You can use yucca root in a different way too.
Take a piece of yucca root.
Peel off the outer brown layer of your yucca root. This will show up the fleshy white inside of the root.
Now using a hammer or some other tool like it, smash the root to get its pieces.
When you run a piece of such yucca root under water, you'll get a leathery bar soap like thing with which you can shampoo your hair.
Manage your Stress
Believe it or not, if everything's right- the diet, vitamins and nutrients intake, what can be the root cause of your hairless may be the big villain- Stress. So, you need to find out the reason for your stress and eliminate that. Here are some suggestions that you can adopt for reducing and managing your stress levels. However, your stress is unique to you and you only need to find the perfect way to deal with it. Hope positive- that's the first thing you can do to remain stress-free!
#17 Do Meditation
Meditation is simple and you don't need to spend any money on it. Everyone can practice meditation. When you do meditation, you can focus your attention. You are able to eliminate the entangled thoughts that crowd up your mind and cause stress by inducing hormonal imbalance. Meditation promotes your emotional and physical well-being including your hair's health!
#18 Breathe deeply
Deep breathing is the basic to many Yoga techniques. It is simple, easy and can be done anywhere while doing anything. You just need to take a five minutes break, sit straight (if not possible, stand straight), close your eyes and focus on your breathing process. Inhale slowly through the nose, feel the air passing down till your abdomen and realize its making its way up till your head. Now just reverse the process, feel the air climbing down and gradually exhale it out through your nose. Deep breathing is a foolproof way of
#19 Exercise, even if in moderation
Exercise is not just to keep your body fit, it also makes your mind stress free. Any exercise- walking, yoga, swimming, aerobics, playing etc.- release feel-good chemicals in your body keeping the whole of your body and mind stress-free and healthy.
#20 Express yourself, vent out feelings
Social support is crucial in dealing with stress. Talk to others- your spouse, friends, family members- face-to-face or at least on phone. If somehow, you can not talk to anyone, write down your experiences and feelings. Maintaining a daily diary or a 'feelings-journal' too can prove to be a great stress buster. Keeping yourself stress-free will not only save you from chronic diseases but also from hair loss!
#21 Take Good Care of your Hair
Taking care of anything eventually preserves it and promotes it. True for hair too! Fix a good cleaning regimen for hair, do not use harsh chemicals for coloring or styling your hair, and be gentle with your hair. Here are some more tips to take care of your hair to prevent them from falling off.
Avoid constant heating and drying procedures on your hair. Heat tends to weaken hair proteins leading to hair-loss. Thus hair dryers, hot curlers, hot brushes, hair straighteners, hair fasteners etc. should be used sparingly if at all.
Avoid using tight low-quality rubber bands, elastics etc. on your hair. Tightly done hairstyles can lead to their breakage and eventual hair loss. Medical condition which leads to hair loss due to too tight hairstyle is called 'traction'. Better avoid such hairstyles.
This trick to prevent hair loss, I bet, you know already- avoid brushing wet hair. And also use wide toothed combs and brushes with soft bristles.
Reading all the above tips may give you a feeling as if hair care is a challenge. However, once you make a habit of taking proper care of your hair and also change your lifestyle to include good diet and exercises for body and mind, you'll feel, how simple it is to pamper your hair!
Most Common Question And Answers For Hair Loss:
Q:

Which vitamin deficiency causes hair loss? (OR) What supplements can be taken for hair loss?

Ans: Hair loss can be due to various factors that range from illness, medication, poor diet, hormonal imbalance and over styling. Lacking in some vitamins will definitely affect your hair growth and make it fall off even more. So, it's important to include all these vitamins in your daily diet or take a multivitamin supplement. Let's know which vitamins will play a major role in healthy hair growth.

Deficiency of vitamins causing hair loss…
Vitamin D – Especially vitamin D2, this vitamin regulates the expression of genes which in turn promote normal growth of hair follicle. So, aim for a minimum of 600 IU of vitamin D per day. Consuming salmon packs, fortified milk and orange juice will help to grab the vitamin D from your diet and also take supplements.
B – Complex vitamins – Biotin (vitamin B7) will strengthen the hair follicles and helps for its healthy growth. Vitamin B6 will promote the blood circulation to stimulate the hair growth, so consume eggs, whole grains and green vegetables. Vitamin B12 strengthens the hair, especially in women, so consume eggs, milk and fish to get this B vitamin. Vitamin B9 (folic acid) helps to transport oxygen which is needed to build and repair the hair to prevent losing or graying.
Vitamin B5 (Pantothenic acid) hydrates the hair follicles and play an important role in hair cell division to prevent early hair graying and hair growth. Vitamin B3 (Niacin) hydrates and detoxify the scalp to keep the hair grow in a healthy state. Vitamin B12 (Cobalamin) helps a lot in preventing the anaemia related hair loss in women.
Vitamin A – This vitamin helps to produce enough oil (sebum) on the scalp to lubricate the hair roots and thus prevent the hair from getting dry, flaky, and brittle. Consume more of spinach, carrots, peaches and apricots to grab vitamin A and thereby healthy hair.
Vitamins C & E – These acts as antioxidants that help to protect the hair from thinning and prevent the attack and damage of free radicals on the scalp and hair growth.
Other than taking these vitamins, you have to include iron, omega – 3 fatty acids, zinc or folic acid in your diet and drink plenty of water, reduce your stress levels, exercise regularly and consume a healthy food on time.
Q:

Can I stop hair loss?

Ans: Yes, you can easily stop hair loss and regrow your hair effectively. But before that, you need to know some facts that help in your hair growth.

Both men and women will experience hair fall, washing the hair too often will not cause hair loss, brushing your hair when it is wet will cause breakage and fall off, do certain research before coloring or undergoing hair treatment to prevent hair loss, etc.

Here are some simple tips that in stopping the hair fall and helps to regrow your hair in a healthy way.
Choose the right comb – Use a wooden wide tooth comb to untangle your hair but make sure that not to brush your hair while it is wet.
Towel Dry – Drying your hair vigorously with a towel will result in hair breakage, pulling and tangles. So, instead of that, gently squeeze your hair to remove excess moisture with your towel and then dry it naturally.
Check your products before buying – Simply switch to shampoos that are free from sulfate, silicone and paraben to avoid loading your scalp and hair with harsh chemicals that cause damage and brittle your hair. So, choose the best products (that includes natural ingredients) to get rid of this hair loss.
Wash hair for thrice a week – Rinse the hair for at least once in every three days with a gentle hair cleanser or shampoo to get rid of all accumulated dust, oil, dirt and the buildup bacteria, which in turn help to prevent clogging of hair follicles.
Hairstyling – Avoid undergoing frequent chemical treatments like excessive blow drying, coloring, ironing, curls, etc. which can result in hair loss. Also, avoid hairstyles like pigtails, ponytails or braids on daily basis. Even the usage of hair elastics will cause hair fall.
Keep your scalp healthy – Remember that scalp health is vital for healthy hair growth and to prevent hair fall. So, if you experience any scalp issues like dandruff, oily, dry or itchy scalp then make sure to tackle these issues immediately.
Exercise – Stress is one major thing that contributes hair fall and other health or beauty issues and exercise or physical activities are the best way to relieve your stress and anxiety. So, regular exercises like yoga, walking, jogging or performing aerobic activities will help to reduce hair fall.
Supplements – To thicken your hair and to curb the hair fall, there are many supplements available in the market but make sure to consult your hair and healthcare professionals to improve the health and volume of the hair.
Other than these tips, you need to apply warm oil hair massage for twice a week, consume a healthy and well-balanced diet along with drinking plenty of water, usage of natural hair care products or remedies for prevent the hair fall and to promote a healthy hair growth.
Q:

What can cause your hair to fall out?

Ans: However, the causes of hair fall will vary from one person to another but here we are explaining you are some external (common) causes that might be responsible for this hair fall. Check out the top factors causing premature hair loss.
Hereditary factors – If your parents suffer from hair loss problem then it may likely pass it on to you.
Hormonal Changes – Hormonal changes in the body like menopause, ovarian cyst, hypo or hyperthyroidism, etc. will increase the sensitivity of hair follicles, weaken your hair roots and thereby causes hair fall in excess.
Pregnancy – Most women experience fatigue, dehydration or hormonal imbalance in both during and post pregnancy which in turn results in causing increased sensitivity of hair follicles and thereby results in chronic hair fall due to unfavorable scalp conditions.
Physical and mental stress – Persistent illness, drastic and excessive weight loss along with extreme physical labour will cause the body to get exhausted and dehydrated which in turn results in the hair follicles undernourished and weak.
Scalp Issues – Any bacterial, fungal or viral infections like seborrhea dermatitis and psoriasis in the scalp will eventually weaken the hair roots and thereby damages the hair follicles that causes breakage, thinning and hair fall.
Alopecia Areata – It is an autoimmune disorder in which the immune system mistakes the hair for a foreign contaminant and thereby starts attacking the hair follicles to cause hair loss. Although there is no cure for this problem, the people who suffer from this problem may get permanent hair loss.
Certain Medications and Treatments – The usage of certain medications (like anticoagulants, birth control pills, thyroid medicines, diet pills, non-steroidal anti-inflammatory drugs, cholesterol medicines, ulcer medications, heart disorders, depression, etc.) and treatment (chemotherapy) will often damage the hair follicles and thereby cause rapid hair fall. This will eventually cause extreme hair fall and baldness.
Thyroid Disorders – The usage of anti-thyroid medications will make the hair look sparse and gets distributed all over the scalp to cause hair loss.
Over Processing and styling – Almost everyone wants their hair to look shiny and trendy. So, they go with some chemical hair treatments and hot styling tools to style their hair, which leads to hair loss.
Deficiency of Iron, Anemia and Blood Loss – Deficiency in red blood cells will not only cause fatigue, weakness and headache but also results in hair loss. So, consume foods that are rich in iron to get rid of this hair loss problem.
Crash Diets and Malnutrition – Insufficient intake of nutrients with unhealthy and unbalanced diet will result in malnutrition in the body which in turn results in the dehydration of the scalp and hair.
Q:

Can low vitamin D cause hair thin?

Ans: Yes, vitamin D is an essential nutrient that is required for our health why because it boosts immunity, keep the bones strong and skin healthy, create new hair follicles for healthy hair growth and also stimulate the cell growth. One can easily absorb vitamin D through sun exposure and a little by dietary supplements.

The deficiency of vitamin D will result in alopecia (or spot baldness). Even the research has stated that vitamin D helps in stimulating the new and old follicles which are essential for a new healthy hair growth. So, get plenty of sun exposure in the sunrise and sunset times, take vitamin D supplements by consulting your doctor, and consume vitamin D rich foods like salmon and other fatty fish, fish liver oils, animal fats, cod liver oil, cereals, milk, orange juice and other vegetarian diets.
Q:

What foods regrow hair? (OR) What foods to eat to stop hair loss?

Ans: Long, strong and shiny hair is almost everyone's dream. Do you know that each strand is made up of cells that contain a protein called keratin? To make your hair long and strong, you need to nourish it with vitamins and minerals. Here is a list of some superfoods that help for the healthy hair growth.
Eggs – Protein is the building block of hair and eggs are the natural source of protein. So, include this protein rich food in your diet.
Spinach & Other Dark Leafy Greens – These leafy greens contain iron, which is essential mineral required for the growth of hair cells whereas its deficiency may cause hair loss. Remember that body is running low on iron, nutrients and oxygen are not getting transported to the hair roots and follicles, which can inhibit growth and make the strands weak.
Vitamin C – For proper absorption of iron, your body requires vitamin C. So, you need to include citrus fruits in your diet. So, consume vitamin C rich foods like lemons, oranges, berries, guava, melon, grapefruit, tomatoes, etc. for the production of collagen which make capillaries that connect to the hair shafts strong and help for the quick hair growth.
Nuts & Seeds for Omega3 Fatty Acids – To support hair thickening, you need omega – 3 fatty acids. So, include these healthy fats (almonds, walnuts, flaxseeds, sunflower seeds, pumpkin seeds, salmon, cod liver oil, cold water fishes, etc.) in your diet to get a natural source of oil to the scalp and thereby to make the hair strong and silky.
Whole Grains – The rich content of biotin, iron, B vitamins and zinc in whole grains will help for the cell proliferation and also produce amino acids which are essential for the hair to regrow in a healthy and strong way.
Carrots – The vitamin A rich content in carrots will help for the quick hair growth. So, drink carrot juice or include carrots in your diet for producing natural sebum oil in the scalp which in turn keep the hair roots healthy and thereby boost the healthy hair growth.
Avocado – The vitamin E and heart-healthy monounsaturated fats in avocado will improve the blood circulation and thus helps the follicles work more effectively to promote the healthy hair growth. It helps to balance the pH levels and oil to unclog the hair follicles and thereby stop hair growth. So, include this avocado to your breakfast salad or blend it into a green smoothie.
Yogurt – It has the rich source of vitamin B5 and calcium that helps to improve the health of hair follicles and thus promote the hair growth in a quick way. You can either apply it externally on the hair or simply consume it internally to grab the benefits of yogurt for regrowth of smooth silky hair. Other than yogurt, you can use dairy products like cottage cheese, low skimmed milk, and low-fat cheese for healthy hair.
Prunes – If you're suffering from dry hair, hair thinning and hair discoloration then prunes is the excellent remedy to clear these problems with its rich source of iron. It works well in strengthening the hair follicles and help for the regrowth of strong shiny hair. Also, include beetroots as well in your diet.
Shrimps – This non-vegetarian food contains a high source of proteins, vitamin B12, iron and zinc that prevents the hair breakage and helps for healthy hair growth.
Sweet potatoes – The beta-carotene (precursor for vitamin A) will not only promote a healthy scalp but also effectively promotes the hair growth. So, consume these potatoes and other foods that are loaded with beta-carotene.
Water – Drink plenty of water for not only to keep your skin glowing and hydrated but also to keep your scalp hydrated, as it adds natural moisture to the hair and thereby promotes a healthy hair growth.
You can include other natural foods like cinnamon, oatmeal, oysters, liver, soybeans (other beans), fortified grains, lentils, pasta, lean poultry, barley, bok choy, shiitake mushrooms, halibut, raisins, bean sprouts, etc. as a part of your diet to enjoy healthy and shiny hair.
Q:

How do I make my hair thicker?

Ans: Hair loss or hair thinning is a common problem faced by both men and women in these days. Although, there are many causes like stress, hormonal imbalance, nutritional deficiencies, usage of wrong hair care products, etc. However, most of us prefer to use various hair care products to get rid of thin hair but there are many natural ways to make your hair thicker and stronger.
Eggs – The protein content in eggs will help to regrow your hair. Apply egg white on wet hair and rinse off with shampoo and lukewarm water after 30 minutes. Do it regularly.
Natural Oil – The application of natural oils like olive oil, almond oil, coconut oil, castor oil, etc. will not only moisturize your hair and scalp but also strengthen the hair follicles to make it grow strong. But be sure to apply lukewarm oil on the hair and scalp.
Avocado – The vitamin E content in avocado will moisturize the hair and strengthen the hair shaft for the re-growth of healthy hair. Mix ripe avocado mash with wheatgerm oil and apply it as a hair mask. Rinse off after 30 minutes.
Fenugreek Seeds – Soak fenugreek seeds in water for overnight and in the next morning, use this water to rinse your hair which helps to encourage the hair growth and prevent scalp infections.
Indian Gooseberry – The antimicrobial, antioxidant, anti-inflammatory and exfoliating properties in Indian gooseberry will help to maintain a healthy scalp and thereby healthy hair growth. Mix enough warm water in Indian gooseberry powder and wait for 10 minutes. Apply it to the hair and rinse off after 15 – 20 minutes without using shampoo.
Rinse your hair 2 – 3 times a week by using warm water and a mild shampoo. Avoid brushing your hair on when it is wet and also use a wide tooth comb to make it less break and grow stronger.
You can use other natural remedies like applying aloe vera gel or henna powder, consuming flaxseeds, drink plenty of water and include protein and B vitamins rich foods in your daily diet. Also, avoid the use of harsh chemical based hair care products.
Q:

How much hair loss is normal in the shower?

Ans: While shampooing and rinsing your hair, most of us, will find the hair strands are moving along with water and you felt that you're suffering from hair loss problem but do you know that we lose around 40 – 70 hair strands in the shower? It also depends upon the frequency of rinsing your hair in a week, hair length and the usage of hair care products.
Q:

Why is my hair falling out teenager?

Ans: We generally, lose 50 – 100 hair strands every day, which is common and gets replaced by growing back in the same follicles on the head.  But hair loss in teenage girls can happen due to several reasons which are mentioned below.
Emotional trauma
Hormonal imbalance
Usage of certain medications (like birth control pills to get rid of PCOS or acne)
Intake of poor nutritional diet
Over styling of hair
Suffering from deeper medical conditions (like scalp infection, unregulated diabetes, overactive or underactive thyroid, skin disorders, compulsive hair pulling, etc.)
Genetics
Stress or traumatic events
Traction Alopecia
Androgenetic alopecia
Disruption of the hair growth cycle
So, consult your doctor for proper diagnosis and treatment to prevent this hair loss in teenagers.
Q:

Which fruits are good for hair growth?

Ans: To enjoy, strong, shiny and healthy hair, you must follow a healthy and well-balanced diet. Do you know that fruits is always a good source of vitamins, minerals and nutrients that help for healthy hair growth? Fruits will enhance the hair growth and strengthen the hair follicles along with making it shiny.

Here are some best fruits for hair growth.
Oranges – The rich source of vitamin C along with beta-carotene, flavonoids, magnesium, and antioxidant properties in oranges will help to boost the hair growth.
Apples – Apple acts as natural hair growth boosters with its soluble fiber, vitamins and antioxidants along with the presence of biotin that helps to strengthen the roots and promotes the hair growth naturally.
Strawberries – It has a rich content of silica that works to stimulate the hair growth and vitamins B & C will aid in strengthening the hair.
Bananas – It is loaded with potassium, magnesium, pectin, fiber and other vital nutrients that help to strengthen every single strand of the hair to get rid of hair loss.
Avocado – It has the powerhouse of vitamins B, C & E along with beta-carotene which is crucial for hair growth. It also ensures the capillary walls get sufficient oxygen and promote scalp circulation and its high-fat content will make it as a great hair conditioner.
Pineapple – The rich content of vitamin C and beta-carotene (which converts into vitamin A) in pineapple will help to produce essential oils that in turn enhances the scalp health and thereby promotes hair growth.
Grapes – Do you know that grape seed oil is used to prevent hair fall and promote scalp health for centuries? Grapes contain a good source of hair care minerals, vitamins and antioxidants along with high water content will help to detoxify the body and prevent hair fall.
Apricots – The intake of apricots as a part of your diet will help to boost the hair growth and damaged scalp naturally with its rich source of antioxidants, fiber, and nutrients. It also acts as an excellent hair conditioner.
Peaches – It acts as natural hair growth boosters with its abundance amount of biotin content and kernel oil. It enhances the hair growth and also strengthens the follicles. You can eat this fruit or apply it as a hair mask to cleanse the scalp and reduce hair fall.
Plums – Bioflavonoid is an essential nutrient that helps to maintain connective tissue of the scalp and hair follicles and plums are an excellent source of this nutrient. So, consume plums to ensure a strong, healthy and thick hair naturally.
Guava – The rich content of vitamin A in guava will help to promote hair growth and prevent scalp infections like dandruff and dry or itchy scalp. So, make a hair mask by mixing guava mash with honey and lemon and apply it on the scalp. Rinse off after a few minutes to get rid of dandruff and hair fall problems.
You can use other fruits like berries, cherries, Indian gooseberries, lemon, pomegranates, papaya, and others which are rich in vitamin A, biotin, vitamin E & vitamin C as a part of your daily diet to seek healthy and beautiful hair.
Q:

What makes your hair grow faster?

Ans: Everyone desires to grow their hair long, healthy and shiny and if you're one among them then here are some tips that help you a lot in growing your hair faster.
Never ever expect to grow your hair overnight. Practice patience by taking care of your hair.
Regularly use conditioner after shampooing your hair why because the conditioner will replace the lipids and proteins inside the hair shaft and thereby prevent the damage caused due to heat from hair styling products or colors.
Skip shampoo every time you rinse your hair. although, it's shocking the truth is that the shampoo is not only used to clear away the dirt, impurities and product buildup on the scalp but it also takes away the essential natural oils which help to keep the strands soft and healthy. So, gently lather on your scalp and rinse the rest of the hair with water.
Rinse your hair with cold water at the end of each shower, as this will lay down the outer layer of the hair more smoothly to prevent moisture loss, heat damage and snags.
Application of an oil (natural oils) with gentle massage or mask treatment for once a week regularly will help it to grow healthy and faster. A popular hair stylist says that applying oil to your damp hair and shampoo it after 10 – 15 minutes will help to fill the hair strands with fatty acids and also applying a hair mask weekly will keep it strong, shiny and healthy.
Although, our body needs various vital nutrients for proper functioning of the skin and hair, even though consuming a healthy and well-balanced diet may not provide proper amounts of all the hair building nutrients for healthy hair growth. So, try taking some hair boosting supplements but before that consult your doctor to know that right dosage and is there any interactions with the medications you're using currently.
Constant brushing will cause physical harm to your hair and also detangle wet hair, you have to start from the bottom and work your way up. Use boar bristle brushes which are good at distributing scalp's natural oils down the hair and gentle on the hair strands.
Switch to a silk or satin fabric which has a softer surface that won't cause friction (the way that woven cotton does to your hair) while sleeping on it and wake up with fewer tangles.
Never ever wrap your wet hair in a massive towel to prevent hair breakage and eventually hair loss.
Skip putting it up with a hair tie at all to prevent the breaks off at the point of tension instead you can gently twist the hair into a bun and clip it with a hair clip or pin.
Give a break to your hair when it comes to the usage of hot tools, chemical relaxers or other services that cause a lot of damage to the hair. Also, remember that the healthier your hair is the longer it grows.
Consume a healthy and well-balanced diet, drink plenty of water and trim your hair regularly to prevent split ends and other damaged caused to your hair.
Reduce your stress levels to prevent the damage caused to your hair and health. Massaging your scalp will help to stimulate the hair follicles with proper blood flow. So, massage your hair with hot oil for once a week regularly.
Q:

Is onion good for hair growth?

Ans: Onion juice is a well known natural remedy for healthy hair. Do you want to know how effective the onion juice works to maintain healthy and shiny hair growth? Then have a look at the below-mentioned onion juice hair care properties.
The rich content of antibacterial and antifungal properties in onion will help to keep the hair loss that caused by dandruff and other scalp infections at bay.
The great source of sulfur helps to minimize the breakage and thinning along with nourishing your hair follicles and restoring the lost nutrients to the scalp.
The juice will improve the hair growth by boosting the level of an antioxidant enzyme catalase, which helps to decompose the hydrogen peroxide and optimizes the cycle of hair growth.
The antioxidants in onions will help to reverse the effects of premature graying and thereby provides a healthy shine to your hair.
It adds volume to the hair and makes it uninhabitable for lice.
It fights against dandruff, dryness, itching, and flaky conditions of the hair with its antibacterial, antifungal and antimicrobial properties.
It soothes the itching and irritation on the scalp with its excellent anti-inflammatory properties.
Upon regular application, onion juice will improve blood circulation which in turn contributes to healthy hair growth.
How to use onion juice for hair growth:
Peel the onion and cut into small parts.
Blend it by adding a little water and filter it by using a muslin cloth.
Apply this onion juice on your scalp and give a gentle massage using circular motions with your fingers.
Let it sit for an hour or two and rinse off with a mild shampoo.
Continue doing the same for once a week regularly for 2 – 3 months to observe visible results of growing strong and shiny hair.
Note: Also, mix onion juice with coconut oil, olive oil, castor oil, egg white, honey, lemon juice, potato juice, etc. to grab healthy hair.
Q:

What are the best hair supplements?
Ans: Just like our body, our hair strands do require nutrients to grow strong and healthy. Although there are many causes of hair loss, the best thing you have to do is to incorporate some best supplements in your daily routine to prevent this hair loss.
If hair loss is due to the result of vitamin or mineral deficiency then supplements will help to prevent this problem and you can see results within 6 – 12 weeks. Here are some best hair growth supplements mentioned below.
Viviscal Extra Strength Hair Growth Supplement (for overall hair problems)
Vitafusion Hair, Skin & Nails Adult Gummies
Philip Kingsley Tricho Complex Hair Nutrition Formula
Sports Research Biotin for Hair, Skin & Nails
Vital Proteins Collagen Peptides Packets
SugarBearHair Vitamins
Phyto Phytophanere Hair and Nails Dietary Supplements
The Mane Choice Manetabolism Plus Hair Growth Vitamins
HUM Nutrition Red Carpet Hair & Nails Formula
OUAI Hair Supplement for Thinning Hair
Provillus Hair Loss Solution
Hairfluence – All Natural Hair Supplement
Natrol – Biotin Maximum Strength Tablets
Vitabiotics Perfectil Plus Hair
Hairburst Healthy Hair Vitamins
Q:

What are the first signs of balding?

Ans: Always remember that the early you catch the problem then the easier it will be to deal or cure the problem. However, baldness is faced by both men and women but men are more prone to this problem. Learn how to identify the early signs of balding and thereby to treat the problem effectively.
Shedding of excessive amounts of hair on the pillow and in the shower
Pattern hair loss and receding hairline
An itchy or flaky scalp that caused due to the buildup of sebum on the scalp and dandruff
Hair taking a long time to re-grow after a haircut
Hair follicles typically get thinner, less radiant and lose some of their shine before falling out.
Genetics – Check whether any of your relatives are facing this problem.
A widow's peak or wave shape front thinning is another indicator that balding is on the horizon.
Q:

What is the best shampoo for hair loss?

Ans: There are many brands that promise to give the best relief from the hair loss and other scalp problems like dry, itchy scalp or dandruff. Here, we are providing some best shampoo for treating your hair loss.
Ultrax Labs Hair Surge – Caffeine Hair Loss Hair Growth Stimulating Shampoo
Nizoral AD Anti-dandruff Shampoo
Art Naturals Organic Argan Oil Hair Loss Shampoo
Nioxin Cleanser
Laritelle Organic Shampoo
Shea Moisture Detox & Refresh Hair Scalp Gentle Shampoo
Strong HairPro Hair Loss Treatment Kit
Hair Growth Stimulating Shampoo with Biotin
Lipogaine Big 5 All Natural Shampoo
Pura D'or Hair Loss Prevention Shampoo
Regenepure DR
Q:

What can I do about thinning hair as a woman?

Ans: Hair loss in women is a devastating problem that makes them suffer in silence, which makes them alter their hair style to hide hair thinning or patches. The frustrating thing is that hair loss in women is not clearly understood as hair loss in men. Also, it is uncommon for women to follow a male pattern unless and until there is an excessive production of androgens in her body.
Some causes that play a key role in female hair loss include high androgen birth control pills, pregnancy, menopause, ovarian cysts and other hormonal imbalances. There are several varieties of products and tips are discussed below to get relief from the problem.
Avoid hairstyles that pull on the hairline like tight ponytails, braids, cornrows or anything that pulls the hair on the hairline to cause hair loss.
Avoid the usage of hair straightener or curling iron tools to style your hair which causes bonds within the hair strands to fracture which in turn causes hair to brittle, break and thereby falls off.
Just like heat is very harmful to the hair, there are a variety of chemical processing treatments offered by salons like chemical straightening, bleaching or lightening hair can cause damage to the hair shaft, which in turn causes hair weakening and hair loss. Try deep conditioning treatment for once a week to your hair for best results.
Consume foods which are rich in vitamins, minerals, biotin (like B vitamins, iron, zinc) can help you to revitalize thinning hair strands. So, include plenty of leafy greens, beans, lean meats, nuts and fish or simply take good dietary supplement will help you to cover whatever your diet is lacking.
Always use hair products that contain numerous oils and minerals which may aid in hair growth, destroy bacteria causing hair breakage, increases blood circulation to the scalp and thus aids in healthy hair growth.
Minoxidil is the active ingredient in Rogaine which is the best over the counter medication that can be applied to the hair in liquid or mousse form. This helps to stimulate the hair follicles and promote the regrowth quickly and effectively.
Never ever skip the scalp massage and you can incorporate a scalp massage into the hair care regimen is to perform it while in the shower (after applying shampoo or conditioner). This massage (in a slow and circular movement) will help to improve the circulation to the scalp and stimulate the hair growth.
Application of essential oils like carrot seed, lavender, rosemary, cypress, etc. on the scalp will help to have regenerative, soothing and balancing properties which help to improve the condition of the scalp and promote hair growth. So, add a few drops of this oil to the scalp during the massage for best results.
Drink plenty of water, get enough sleep and also reduce your stress levels to stop hair thinning and also to start re-growing of your hair healthily.
Brush your hair gently to avoid the breaking strands which can weaken the hair and make it prone to hair breakage.
Also, create a scalp enhancing natural paste by mixing 1/2 teaspoon fenugreek powder with 3/4 cup unsweetened coconut milk in a small bowl. Use it to massage on the scalp and cover your head with a shower cap. Rinse off after 30 minutes with shampoo for twice a week.
Q:

How to prevent hair loss?

Ans: Shedding hair will make your confidence to shed. So, to regain your confidence and hair growth, you have to apply the below mentioned natural remedies.
Hot Oil Massage on the scalp and hair
Onion juice (rich in high sulfur content)
Beetroot juice (contains complete nutrients to prevent your body deficiency)
Green tea (revitalizes the hair follicles and stimulates the hair production)
Meditation (reduces your stress and thereby aids in hair growth)
Indian Gooseberry (Rich in vitamin C, antioxidants and antibacterial that keeps the scalp clean and healthy)
Natural Hair Mask (applying natural hair mask or pack will help to provide the essential nutrients required for the hair to regrow strong and healthy)
Indian Lilac (contains antibacterial, antifungal and anti-inflammatory properties that curb dandruff and helps the follicles to become strong and thus encourage the hair growth).
Aloe Vera (The enzymes and other essential nutrients in aloe vera promote healthy hair growth by removing the dead cells on the scalp that clog the roots in the hair and also restores the pH balance of the scalp).
Egg white (The rich of protein and sulfur in egg white will make the hair grow without any scalp problems).
Henna (Seals the hair cuticles that strengthens the hair shaft at the root)
Essential oil massage (Massage promotes good circulation in the scalp and increases the blood flow to the follicles. So, use essential oils combined with natural oils to massage on your scalp).
Fenugreek Seeds (Adds strength and shine to the hair, upon regular usage)
Avocado (Nourishes, strengthens and protects your hair from external factors)
High protein foods, omega – 3 fatty acids, biotin, iron, vitamins (A, B, C & E) will help to keep the hair healthy, shiny and strong. So, include them in your daily diet to get relief from your hair problems.
Other than using natural remedies, you can also use saw palmetto, reduce the damage to your hair caused due to hair dryers or chemical hair dyes or bleaching and consult your doctor whenever you feel you're a problem is getting worse.
Q:

Is acne, dandruff and hair loss related to each other?

Ans: Yes, all the three are related to each other with the common thing called hormonal imbalance (based on sebum production). Acne, dandruff and hair loss are interrelated to each other.
Q:

Is genetic hair loss really curable?

Ans: Genetics hair loss is described as hair loss that runs in families and it is also called as hereditary hair loss or androgenic alopecia. While there isn't anything you can do to change your genes but the only thing you can do to help keep your hair healthy and strong is to consume a protein hair diet and be gentle with your hair that means diet and living conditions will help you in getting rid of genetic hair loss. You will notice some changes like the hair follicles become smaller, the growth phase is shorter and the hairs are shed faster. You can also use topical applications (Minoxidil or Finasteride) or treatments (hair transplantation) by consulting your doctor.
Q:

Could lack exercise and sleep contribute to hair loss?

Ans: Lack of exercise and sleep will cause various health and hair related problems, including hair loss. Both will indirectly work on thinning your hair and thereby eventually results in hair loss. Sleep plays an important role in letting the body to repair, regenerate and rejuvenate the hair and skin and if you suffer from sleep deprivation (or alterations in sleeping patterns) will affect your hair growth.

Exercise will make you flush out the toxins and waste materials through sweat from the skin pores but when you sweat from the scalp then it unclogs the hair follicles and increases blood circulation to the scalp. Some people experience hair fall at the start stage of their exercises but it is a temporary problem which can be resolved by taking care of your scalp.
Q:

How does a female with PCOS treat hair loss or balding?

Ans: PCOS hair loss is an excess of male hormones in the body, which means start losing hair around the frontal region of the scalp. So, women with PCOS have excess amounts of the male hormone testosterone, which is converted into dihydrotestosterone (DHT, made from a female hormone called DHEA). So, an excess of DHT will clog the hair follicles and thereby affect the normal process of hair growth.

Diet, lifestyle changes, supplements, exercises, stress management along with some gentle hair care will help to reduce the hair loss in women suffering from PCOS.