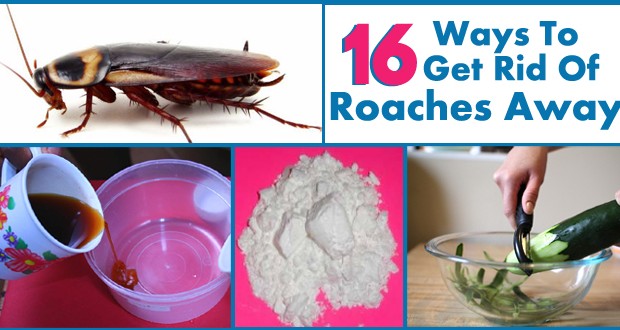 Cockroaches or roaches, as we call them, can be the most nasty creatures you could imagine to share your home with you! They can transmit disease and spread bacteria all over your home. Of course, you have that pest control guy and the exterminator too for help but all those chemicals to kill the roaches are not so good for you, your kids, pets and any human living with you. So, why not adopt some home remedies to get rid of roaches permanently and that too in natural ways! These are also inexpensive ways of getting rid of roaches as compared to the bills of pest control companies!
Home Remedies to Get Rid of Roaches
Remedies to get rid of roaches include a variety of ways. There are some natural ingredients that act as repellents and keep these roaches away from your house. Then there are some other natural ingredients that kill them and give you relief from these creatures permanently, well, till others of their species don't find you home too attractive to avoid! Then there are some tricks to trap roaches in case you don't want to kill them. We try to cover all these remedies so that you get rid of roaches completely.
Coffee Grinds to Get Rid of Roaches
Whether the caffeine in coffee kills these roaches or the aromatic coffee acts as a bait is a debatable point. The core of the theory is that coffee grind is one of the most effective remedies to get rid of roaches. They will feed on anything organic and if you have ever noticed, they are especially attracted to coffee grounds left over the counter among many other foods. So, lure them and eliminate them.
How to Use Coffee Grounds to Kill Roaches
Get this:
Large glass jars
Wet coffee grinds
Water
Small cups
Do this:
Take the glass jars and fill them with water, about halfway.
Now take the small cups and place wet coffee grinds inside each of them.
Place one such cup inside all the jars.
Now place these jars against walls or baseboards or any other place where possibly the roaches are nesting.
What happens is, roaches get attracted to the aroma of the coffee grinds and enter the jar. Once they are inside the jar, they can't escape from there.
Once you have laid the jars to attract the roaches, check them daily once. The day you see the jar has quite a number of roaches, dump them along with the water into the toilet. However, before discarding these roaches, remove the cups from inside the jars.
Now, fill the jars again with water and place some more wet coffee grinds in the cups and repeat the process.
Do this till the time you see no roaches for days in your jars with coffee ground.
Borax and Sugar to Get Rid of Roaches
As mentioned above, anything organic attracts roaches and so does anything sweet! So, this remedy uses sugar to attract them but what is used to kill them! Borax. Yes, borax can be as effective as the sprays used by your commercial exterminator. It dehydrates the roaches' exoskeleton and also damages their digestive system. This is enough to kill them.
How to Make Borax-Sugar Bait for Roaches
Get this:
Equal parts of:
Do this:
Take equal amounts of borax and sugar and mix them.
Apply this mixture along the baseboards, into the cracks, under your cabinets and the sink or any other place where you usually see the roaches.
You will see many dead roaches in a few hours of time.
Precaution: Borax is categorized as poison and thus needs to be used very cautiously, especially if you have kids or pets at home. Always sprinkle the borax and sugar powder in higher places and where the kids and pets cannot reach. Always label the jar or the container in which you store borax so that no accident happens in future.
Fabric Softener to Get Rid of Roaches
Fabric softener is yet another way to effectively kill cockroaches. Roaches breathe through their skin and when you spray a thick solution of fabric softener and water on them, it suffocates them, makes it difficult for them to breathe. Thus they get killed.
How to Use Fabric Softener to Kill Roaches
Get this:
Fabric softener, preferably natural one- 3 parts
Water- 2 parts
Spray bottle
Do this:
Mix the fabric softener and water.
Fill the spray bottle with this thick solution.
Now spray this over any cockroach you see. You may even spray it in places you are sure has hidden roaches
Make a Cucumber Trap to Get Rid of Roaches
While not many found this remedy too effective, some still say it works. Anyway, cucumbers are almost always in your fridge so it doesn't hurt to experiment with this cucumber peel remedy too to find out if the roaches in your house really react to them! It is said that cucumber peels when placed in aluminum can react to the metal and produce such a stink that isn't tolerable to roaches and they die off.
How to Make Cucumber Trap for Roaches
Get this:
Fresh cucumber peels
Aluminum can
Do this:
Place the cucumber peels in the can.
Now place this can somewhere near a site where you think there are many cockroaches.
Now just wait for the nasty creatures to die away.
Baking Soda- Sugar to Get Rid of Roaches
Earlier we have talked about borax and sugar mix that makes poisonous bait for the roaches. Now if you do not want to use borax due to the presence of kids and pets in your home, try mixing baking soda with sugar to make almost equally effective bait for the roaches at your home. The theory for sugar is the same that they attract roaches and for baking soda, it's said that they affect the digestive system of the roaches. In fact, it leads to build up of so much gas into the creature that it dies.
How to Make Baking Soda-Sugar Bait for Roaches
Get this:
Do this:
Take equal amounts of both the ingredients and mix them.
Sprinkle the mix in those areas that are infested by the roaches.
When the roaches eat the mixture, they would die
Bay Leaf to Get Rid of Roaches
This can be said a homemade repellant that drives roaches away from your home instead of killing them. Bay leaf, a herb spice used extensively in Asian cooking, can be found easily in a store selling Indian or other Asian spices. It is said that roaches can't stand the smell of bay leaves and thus you can get rid of roaches permanently even without killing them.
How to Use Bay Leaves for Roaches
Get this:
Bay leaves- handful of them
Mortar or pestle or any other tool to crush them
Do this:
Crush the bay leaves to get its powder. Bay leaf is already dried and you won't find it difficult to grind it.
Now sprinkle this powder near the places nesting roaches.
The roaches will soon leave your home and migrate somewhere else where they get their favorite foods.
Ammonia-Water Solution to Get Rid of Roaches
Ammonia too works as a repellant for roaches due to its pungent smell. Therefore, make it a habit to clean the hard surfaces with a solution of ammonia and water.
How to Use Ammonia for Roaches
Get this:
Ammonia- 2 cups
Water- 1 bucket
Do this:
Add ammonia to the bucket full of water.
Now wash the hard surfaces of your kitchen and bathroom and if possible at other places with this solution.
Roaches will leave your home soon but keep on using this solution at least once in two weeks to prevent them from entering your house again.
Soda Bottle Traps
While you can always buy roach traps, if you have some time and will to put a little effort, you can use those empty soda bottles to make roach traps right at home. Here's how you can make one.
How to Make Soda Bottle Trap for Roaches
Get this:
Plastic soda bottle
A sharp knife or any other thing that may cut the bottle
 Tape
Soap
Water
Do this:
Take your plastic soda bottle and with the help of a cutting tool, cut off its top from the place where it curves.
Now take this detached top of the bottle and place it in inverted position into the body of the bottle. Don't forget to take out its cap. It should look and act like a funnel inside the soda bottle.
Use the tape around the rim to hold it in place.
Now mix a little water with soap and pour this into the bottle. You need the very little solution of soap-water in the bottom of the bottle.
Now place your homemade cockroach trap where roaches are seen often.
Roaches will crawl into the bottle and will drown.
Use Catnip to Get Rid of Roaches
Catnip herb is a natural repellant for roaches that you can use to get rid of roaches safely without harming your pets and kids. The active ingredient in catnip is nepetalactone and this is non-toxic to humans as well as pets.
Ways to Use Catnip for Roaches
Get small sachets of catnip and leave them in places where you see the cockroach.
Simmer 1 tsp of catnip in 2 cups of water and make a catnip tea. Use this as a spray after filling it in a spray bottle. Spray it around baseboards and behind counters or anywhere you doubt roaches hide in your house.
Precaution: While the herb is safe for pets, it makes cats go crazy so if you have a cat in your house, look for some other remedy to get rid of roaches.
Boric Acid to Get Rid of Roaches
This is what the commercial pest control use- boric acid. And thus it's a toxic way to get rid of roaches but yes it is one of the options if you have just fed up with these nasty creatures.
How to Use Boric Acid to Kill Roaches
Get this:
Do this:
Put boric acid on top of the kitchen cabinets or bathroom cabinets wherever they are.
Don't put boric acid inside cabinets. Remember, they are toxic.
You may actually put it somewhere between ceiling and cabinets if it's possible. Roaches like high places and so this effort won't go waste.
If you are able to do this, roaches will take boric acid to their nests from these high places and kill all of their species there.
Precaution: Take utmost care to keep the boric acid away from kids and pets. Wash your hands properly after putting boric acid. Better if you use gloves to do the job and wash off the gloves properly immediately after placing boric acid in desirable place.
Cayenne Pepper to Get Rid of Roaches
Among the herbs, other than bay leaves and catnip, you may include pepper too when it comes to making natural repellant for roaches. Where there is cayenne pepper, the roaches would not like to live there. Now whether this is due to the smell of the pepper or due to some ingredient in it, is not clear but pepper does work.
How to Use Cayenne Pepper for Roaches
Get this:
Cayenne (or red) pepper- 1 tbsp
Garlic clove (crushed)- 1
White onion (crushed)- 1
Water- 4 cups
Do this:
Take a tablespoon of red or cayenne pepper.
Mix it with a crushed garlic clove and white onion.
Now boil a quart or 4 cups of water and add all this to the boiling hot water.
Put off the flame and wait till it cools down.
Pour this into a spray bottle and spray in the roach-infested areas.
You may also sprinkle cayenne pepper behind any object or place where you doubt roaches to be hiding.
Hair Spray to Get Rid of Roaches
Yes, you have read right! You can even use the simple hair spray lying in your home to kill roaches. As the spray is sticky, it makes the wings roaches get glued so that they may not escape. It also seals the breathing orifices of the roaches and thus they suffocate and die.
How to Use Hair Spray to Kill Roaches
Get this:
Do this:
Spray the hairspray solution whenever and wherever you see a cockroach.
When the insect dies, put it in the dustbin and use a damp cloth to clean the area where you sprayed with the hairspray.
Warning: hairspray is a highly flammable ingredient. Never ever use it around an open flame. It's better not to use this remedy in a kitchen.
Essential Oils Remedy to Get Rid of Roaches
There are many pleasant smells that we humans like but roaches, flies and other insects cannot stand them. Some of such oils include rosemary oil, cedar, eucalyptus, fir and lemon oil. You can always pour few drops of these oils onto a cotton ball and place this near insect infested areas. Here is a remedy that uses some of these oils along with baking soda and borax to get you rid of roaches and other insects as well. This will leave your home smelling pleasantly too.
Use Cedar, Lemon and Fir Oils to Get Rid of Roaches
Get this:
Cedar essential oil- 10-12 drops
Lemon essential oil- 4 drops
White fir essential oil- 4 drops
Baking soda- 2 cups
Borax- 4 tbsp
Do this:
Add all the ingredients in a bowl. Mix them well.
Now sprinkle this mixture everywhere where you think there might be roaches. You can even sprinkle this on carpets and upholstered furniture. Soda and borax absorb soil, oils and odors. This makes your carpets and furniture fresh and clean.
 Now leave it for about half an hour.
Then vacuum well so that all soda residues are removed. You may not like to clean it from such places as behind the cabinets etc.
This will not only kill and repel roaches but will also repel mites, ticks, fleas, spiders, bedbugs etc.
Make Sticky Trap to Get Rid of Roaches
You may trap the roaches in such a way that they remain unable to escape and this you can do by using super-strength packaging tape! You just need to keep the sticky side up. If that doesn't please you, get glue boards used to catch mice.
How to Make Sticky Trap for Roaches
Get this:
• Packaging Tapes
OR
• Glue board (meant for mice control)
Do this:
Take the tapes and place them in such places as along baseboards and countertops, behind the refrigerator and stove. Don't forget to keep the sticky side up.
Do this at night before going to bed because this is the time when roaches are the most active creatures.
If you have roaches, hope to catch some of them until morning.
Do this daily till you see none for a couple of days.
If it's a lot of work, just place glue boards that are made for mice control in places where you see roaches.
Some Other Tips to Prevent and Get Rid of Roaches
If you don't want these unwelcome guests called cockroaches in your house, you need to cut off their supply. Yes roaches too have basic needs like us- food, water and shelter. So don't let food be easily available to them by avoiding spills and storing food properly. Fix your leaking pipes and keep drains clean. Keep your house clean, free of clutter and warm moist dirty places because such places are what become the shelter of roaches. Here are some tips for you so that you can prevent roaches from entering your house and if they have already entered, you will also find some tips to get them out of your home.
Remove all the clutter from everywhere in your house.
Keep your house clean by vacuuming well and often. Clean floors daily. Pay special attention to furniture, walls, cabinets, mouldings, baseboards, etc. while cleaning.
Vacuum or sweep and then sponge mop kitchen floor every week, if not daily. Take care to mop up all the water.
Wash all the hard washable surfaces like sinks etc. with cleansers and not just water. You may use ammonia and water as mentioned in the remedies above.
The places that are hard to reach and not visible and those that you can't clean everyday need to fix something to detract roaches. Dust these places with boric acid powder.
Seal any cracks and openings with caulk. You can find such cracks and openings where the wall and the ceiling meet, where the wall and the floor meet, around baseboards and pipes, door and window mouldings, around splash board at a sink, and inside cabinets.
Tips to Cut off Food Supply of Roaches to keep them out
Always keep food stored in sealed containers or in your refrigerator. It's better to keep it sealed in the fridge too.
Try to paint your cabinet shelves and drawers using enamel. Always keep them clean.
Don't let the garbage lay open. Use covered dustbins in the kitchen and where you have moist garbage. As far as possible, keep covered garbage containers outside.
Keep everything in kitchen clean. Wash your dishes, tables, counters and stovetops every day without fail.
Store anything edible including dry items like flour, sugar, cereal, pasta and crackers in covered containers. Remember, these are also the foods that attract roaches.
Tips to Cut off Water Supply to Roaches
Fix all the leaks in your house. No pipes, taps, flush tanks, nothing should leak water.
Clean drains every day.
Keep all the places in the house clean and dry. Kitchen and bathroom should also be clean and dry. Mop any water as soon as the area gets wet.
Tips to Eliminate Hiding Places of Roaches
Clean the clutter from all storage spaces including shelves, drawers, closets etc. Throw away everything that is junk.
Don't use shelf paper as roaches love to hide under them.
Unused furniture, appliances, food and clothing, all of them are clutter. Throw them away or give them away. Do whatever you need to get rid of them.
Regular home repairs are a must. Seal cracks and openings. Also, remove chipped paint.
If there is wallpaper in your house, make sure, it is not losing. Lose wallpapers should be removed or repaired. The same is true for plaster.
Check your books on the shelves or drawers or wherever you store them. Check behind picture frames, under the sink and electronics for cockroaches. Clean them regularly.
If you take all the above measures, roaches would just hate your house and you will not have to think about the ways to get rid of roaches!
Most Common Question And Answers:
Q:

Does boric acid kill roaches?

Ans: Boric acid is a combination of boron and water which can be sold in the form of powder. It is a naturally occurring substance that found in most of the fruits and plants. Although it is highly toxic to cockroaches but it is harmless to humans and pets.

Whenever the cockroaches crawl through the boric acid powder then it gets all over their body like legs, arms, etc. This powder will be naturally absorbed by its body and makes its way into the digestive and nervous systems to cause death shortly after ingestion.

Do you know cockroaches eat other dead cockroaches? So when a cockroach eat another that died from boric acid then the acid gets into their system and eventually causes death – as cycle continue.

Also, sprinkle some boric acid on traps or bait or other food materials that will help to kill the roaches in large number. All you need is to apply this boric acid in the places where you find cockroaches are moving but avoid pouring too much powder in one place, as this will make the cockroaches to avoid if they see it. Wear gloves and wash your hands properly after putting boric acid.
Q:

What kind of food are roaches attracted to (OR) what do cockroaches like to eat?

Ans: There are several species of cockroaches that prefer to eat something different than the other but most of these prefer foods like meat, sweets or starch foods and most important is the water why because dehydration will cause immediate death to these insects.

Here are some foods that roaches like to eat.
Sugar (A common food that attract all kinds of insects – so make sure to keep your sugar or sugar products tightly sealed).
Fruit juices and soda (Fruits and beverages are rich in sugar)
Starch foods
Glue
Cheese
Grease
Meat
Random stuff
Young roaches
Garbage
Decaying matter, animal feces, dead tress and dead bodies
Q:

Do cockroaches bite people?

Ans: Yes, cockroaches are omnivores which will eat plants, meat and even human flesh of both living and the dead. Although, cockroaches are not likely to bite living humans unless and until they are of extreme infestations where the population of these roaches is large and the food is in limited quantity. If there is any other food sources available (like garbage cans or exposed food) to these roaches then they won't bite humans.

In most cases, these roaches will bite the fingernails, feet, eyelashes, mouth, and hands. It causes irritation, swelling and lesions and sometimes results in minor wound infections.
Q:

How do I get rid of German roaches?

Ans: The German cockroach is one of the common types of roaches which we generally see in restaurants, apartments, hotels, luggage or any package belong to humans. These will prefer to stay in places where it has moisture, food and warmth and its large population will produce a foul odor.

Here are a few ways that explain you to get rid of these German cockroaches.
Use Gel Baits – Apply gel bait in the crevices and cracks of your kitchen drawers and along upper shelving and baseboards.
Choose a Bait Station – Bait stations consist of a plastic housing that contains poison to clear these insect. All you need is to place this bait stations in and around your kitchen and bathrooms where you identify high traffic of roaches by looking for their droppings (resembles black pepper) like behind refrigerator, oven, toilet, microwave, dryer, hot water heater, toasters, etc.
Use a Sticky Trap – The pheromones in sticky traps will attract the roaches and when they enter into this trap then they become stuck in it and suffocate. Also, make sure to place these traps against the walls and in corners in high traffic areas.
Use a Duster Bulb to apply Boric Acid – A duster bulb will help you in applying a thin layer of this acid along the floors and walls in the kitchen and bathroom to get rid of these German roaches by simply drilling a hole and place this bulb in the hole. Squeeze out the bulb to dispense the acid in between the walls and thereby kill these German roaches effectively.
Also, follow some natural remedies like sprinkling a diatomaceous earth, spraying soapy water or mint oil mixed water or catnip water on the places where you find these roaches in and around your home.
Always remove the food particles and clean up spills on the counters, stovetop, tables, sink and other surfaces in the kitchen along with washing dirty dishes and covering the trashcan with tight fitting lid at night before bedtime.
Make sure to store the food items like flour, cookies, cereal, bread, crackers, etc. in airtight containers to prevent the roaches from smelling the food and invading the kitchen.
Use caulk (or expanding foam) to cover cracks, holes, gaps and crevices along the bottom of the walls in the bathrooms and kitchen.
Q:

What home remedy kills roaches? (OR) What is a natural repellent for roaches (OR) How to prevent roaches?

Ans: Cockroaches are attracted to your home in search of food and water and act as carriers of different germs and bacterial which in turn causes allergic reactions in people and pets. Although, there are plenty of commercial products available in the market but these may pose some health risks for your family.

So, to get rid of these roaches naturally, here we are explaining you some best ways.
Borax and sugar – Borax dehydrates the pests' exoskeleton and damages their nervous and digestive system and sugar will help a lot to attract these roaches into the trap. Simply mix 3 parts of borax and 1 part of sugar and pour it all over the places where you find these roaches.
Neem (or Indian Lilac) – The usage of neem oil or leaves has proved that it have the ability to kill or keep these pests away. Stir 1 tablespoon of neem oil in enough water and pour it in a spray bottle. Spray it on the affected areas at night (OR) sprinkle some neem powder around the affected areas at night.
Kaffir Lime Essential Oil – It acts as a natural repellent for roaches (especially for American and German roach species). Stir 8 – 10 drops of kaffir essential oil in 2 cups of water and pour it in a spray bottle. Use it to spray in and around the roaches affected areas at night.
Catnip – It also works as natural repellent to roaches. The nepetalactone in catnip exhibits repellency property and it is also nontoxic to pets and humans. Simmer 1 tablespoon of catnip leaves in 2 cups of water and strain it. Let it cool and use it to spray on all places where you suspect the presence of roaches at night.
Diatomaceous Earth – It causes damage to their waxy exoskeletons and thereby results in death. Lightly dust some food grade diatomaceous earth on the suspected areas for once daily by wearing mask and rubber gloves.
Coffee Grounds – The aroma of coffee grounds play an important role in clearing these roaches. Simply fill a few glass jars with water and pour the wet coffee grounds in small paper cups and place them inside the jar. Put the jars against the walls or baseboards where you find these roaches at night. They get entered into the jar and unable to come out.
Pandan Leaves – The terpenes and sesquiterpene hydrocarbons along with other aroma components in these leaves will make it work as insect repellent. All you need is to keep some pandan leaves in the areas where you see these insects to vanish them away quickly.
Fabric Softener – The critters when exposed to soapy solution then they become suffocated and die off ultimately. Mix equal parts of water and fabric softener and pour in a spray bottle. Spray it directly on the insects whenever you see them and also in places where you suspect.
Cut off their food supply by keeping your home clean and dry without keeping the food or food particles outside. Also, regularly keep your home (kitchen and bathroom clean and dry) and fix all the leaks and clean the trash can.
Q:

Where do cockroaches hide in the house? (OR) Where do roaches live? (OR) where do cockroaches come from in the house?

Ans: Cockroaches are nocturnal insects which prefer to live and feed in the dark places to cause infestation. Here are a few places that are liked by cockroaches to hide in the house.
Ceilings
Pipes
Furniture
Cardboard and paper
Kitchen appliances like stove, refrigerator, behind coffee makers, microwaves, blenders, toasters, etc.
Kitchen (especially in the place where there is abundant moisture and food)
Bathrooms
Dishwasher
Cupboards, cabinets and closets
Baseboards and trim like beneath the rubber mats, wall papers and within wall cracks.
Décor and electronics
Other moist places or narrow areas like inside or under garbage cans
Under the floor drains
Q:

Is boric acid and borax the same thing?

Ans: Borax and boric acid are not the same compounds. Borax is a salt of boric acid but both boric acid (hydrogen borate) and borax (sodium borate) are associated with making homemade laundry soap and they both contain the element called boron.

The borax and boric acid will work well by eroding the waxy coating on an insect's skin and causes it to dehydrate and die. These are widely used as low toxicity pesticides in house.
Q:

Do cockroaches sleep?

Ans: Yes, they do sleep. Just like humans, cockroaches also follow a circadian rhythm. In general, most species of roaches are active during the 4 hours after lights off to find their food, water and mate. In a high density cockroach infestation, the population may be forced to come out at other times to find food. Remember that when we are active, they asleep and when we sleep they are active.
Q:

What are the dangers of cockroaches to humans?

Ans: There are various health risks associated with cockroaches to humans. They spread a range of diseases to humans by simply contaminating the food with their waste and saliva, which in turn results in salmonella, gastroenteritis, etc.

It spreads bacteria and parasites which in turn results in causing food poisoning, typhoid, diarrhea, leprosy, plague, asthma, dysentery, viral diseases (poliomyelitis) allergic reactions, etc. Another health risk of roaches in close contact with humans is that of entering body cavities, as they crawl over sleeping humans and thereby crawl inside of ears, nostrils and open mouths to cause diseases.
Q:

Do Cockroaches like the light?

Ans: Most of the roaches don't like the light and will scatter when you shine light on them but there are certain species that gets attracted to light like the wooden roach. So, roaches will stay in the darkness to do their business done without being detected.
Q:

How long do cockroaches live for?

Ans: The lifespan of cockroaches may vary on their species like from a few months to years. A cockroach can live almost a month without food and can live about 2 weeks without water. A female roaches only mate once and stay pregnant for life.

Do you know that a cockroach can live for up to a week without its head and hold its breath for up to 40 minutes? It also run up to 3 miles an hour.

German cockroach has an average lifespan of less than 200 days. American cockroach has an average lifespan of adult male (362 days) and female (more than 700 days). Oriental cockroach has an average lifespan of adult male (160 days) and female (180 days).
Q:

Can I use vinegar to get rid of roaches? If yes, then what is the method?

Ans: The usage of white vinegar will help you in killing the roaches effectively without any mess or foul odor in and around the house. Here is the simple process that explains you how to use vinegar to get rid of roaches.
Pour a small cup of white vinegar in 1 cup of water and stir well.
Pour this mixture in an empty spray bottle and shake it well till both the ingredients are mixed well.
Spray this mixture all around the areas where you find these roaches causing infestation like under the sinks, around kitchen cabinets, kitchen tops, etc.
Leave it for overnight and clean the area in the next morning.
This process will help you in killing these roaches effectively without causing any toxicity to your family members or pets.
Repeat the same process every night until you find no signs of these roaches in your home.
Q:

Is boric acid harmful to human health?

Ans: Since many years, people are using boric acid as their effective natural germicide and pesticide but this acid has potential toxic to humans in very rare cases. The ingestion of boric acid becomes lethal at doses of 5 – 6 grams in adolescents, 2 – 3 grams in toddlers and 15 – 20 grams in adults.

It causes some side effects like infertility and reduction of testicular size in men, vomiting or nausea, flu – like symptoms. However the long term exposure will cause damage to the kidneys and liver along with causing neurological problems. So, you can use boric acid to get rid of roaches but make sure that not to ingest this acid into your body.
Q:

Do roach bombs really work?

Ans: Cockroaches are very difficult to get rid of them and they definitely require more than one treatment to completely clear them in and around your home or work place. Now most people are thinking that the roach bombs really work to eliminate these roaches effectively.

The usage of bombs is not that much effective in killing the cockroaches why because they won't reach into the spots to penetrate the roaches nest and thereby kill all of these pests. Also, in a study, it is showed that roaches may become immune to the active ingredients used in the bombs and thereby it was unable to kill any cockroaches.

Also, remember that these bombs are harmful to people and furniture, as it is flammable. So, avoid the usage of bombs to kill roaches. If you're suffering from these roaches infestation then simply call your pest management specialist to get a helping hand for clearing these roaches from your place.
Q:

What plant can repel cockroaches?

Ans: Here is a list of few cockroach repelling plants.
Catnip
Chrysanthemums
Osage orange trees
Bay leaf
Garlic
Cucumbers
Peppermint or tea tree oil
Rosemary
Citronella
Q:

How do you attract roaches? (OR) What causes roaches to come into your home?
Food is the main cause that attracts roaches into your home. So, be sure that your food items are tightly sealed and throw away the remaining food particles immediately and clean the dishes to get rid of this infestation.
Damp, dark and wet places will provide shelter to these roaches. So, always keep your home clean and dry to get control over pests and roaches.
Strong odor that emits from trash cans will give welcome to these cockroaches. So, empty the garbage cans and use a fresh cover to seal it and also clean it regularly.
Leaky pipes will make the area wet, which in turn allows the roaches to enjoy the wet or dampness. So, always check your pipes and all around the walls and take necessary steps to get rid of this problem.
Q:

Does Baking soda kill roaches?

Ans: Yes, the combination of baking soda and sugar will work well in killing the roaches and making your place free from pests and roaches.  Let's get into the details.

Sugar attracts many pests, including roaches why because the glucose content in sugar is required for the roaches to survive. Baking soda produces a gaseous reaction and thus causes the stomach literally explodes.

So, mix equal quantities of baking soda and sugar (prefer powdered sugar) in a bowl. Pour this mixture on the areas where you find this infestation. Leave it for overnight but make sure that these roaches should drink water after consuming this mixture. Repeat the process regularly to see the reduction in the roaches' infestation.