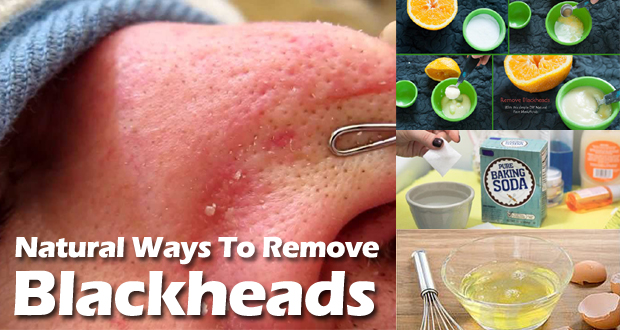 How to get rid of blackheads on nose is a very common question asked by many who really do not like to make public appearances with these tiny dark spots on their nose and also on face. These blackheads, also called comedones occur when the pores of your skin become clogged with dirt, oil and bacteria. At first they are white but gradually as they get exposed to air and pollutants in your environment, they become unsightly dark deep blackheads. Blackheads on nose are common. They are also not very uncommon on forehead and chin. It is not always necessary that blackheads will appear only if you do not care much about cleaning your face properly. If you are now thinking 'why these blackheads on my nose occur then?' let me tell you that the causes may vary from hormonal imbalance to wrong skin cosmetics that you apply on your skin. However, you can always eliminate blackheads on nose without much difficulty and without leaving holes on your skin. Here are some natural remedies as well as techniques to get rid of blackheads on your nose fast!
How to Remove Blackheads on Nose with Home Remedies
Here are some useful and effective home remedies to remove blackheads on nose.
Use Lemon and Salt to Get Rid of Blackheads on Nose
Lemon and salt when mixed can become a very effective cleansing and antibacterial scrub. Lemon, a natural astringent and a rich source of citric acid not only cleanses and helps make your skin brighter, but also fights off germs present inside your skin pores. It also regulates oil production in the skin, thus preventing more blackhead to be formed. Salt, again having antibacterial properties, combats germs and bacteria that work to clog your pores. It is also an excellent exfoliator which scours off excessive dead cells, dirt, and grime from the skin.
Get this:
Sea salt- 1 tbsp
Lemon- 1/2 tsp
Water- 1 tsp
Do this:
Mix all the ingredients well.
Apply this on your nose (and even face, if you have blackheads there too).
Gently massage the area in circular strokes. Don't be harsh while rubbing.
Do this for about 2-4 minutes.
Wash off with lukewarm water.
After a while wash off your face with cold water so that any pores that may have opened, get closed again.
You may use this scrub 1-2 times a week, but not more than that. Also do not step out in the sun after applying lemon juice to your skin as it makes your skin too sensitive to sunrays.
Brown Sugar- Honey Remedy to Get Rid of Blackheads on Nose
Brown sugar is also a very good exfoliator and can be used even on sensitive skin. It helps cleanse your skin deeply by sloughing off dead cells and excessive oil from the skin. Additionally, it contains alpha hydroxyl acids that pull off toxins and germs out of your skin pores. Honey is one of the most effective natural antibacterial agents that also moisturizes and makes your skin soft. It sticks to the gunk there in open skin pores and pulls it out when used as a scrub for skin.
Get this:
Brown sugar- 1 tbsp
Honey- 1 tsp
Do this:
Mix well the sugar and the honey.
Now apply this mixture on your nose.
Massage the area with it for about 2-5 minutes. Do this gently without being harsh on your skin.
Wash off with lukewarm water and then with cold water.
Pat dry the skin.
Oatmeal Scrub to Remove Blackheads on Nose
Oatmeal scrub to remove blackheads is made with orange peel powder and yogurt apart from oatmeal. All these ingredients deeply cleanse, exfoliate as well as moisturize and soften your skin pores. Oatmeal is an excellent absorbent and thus soaCystks up excessive oils from skin. It is also a very good exfoliator and helps slough off dead cells gently. The orange peel powder is again a good exfoliator and also hydrates your skin well. Its citric acid fights off germs that are at the root of clogged pores. It is assisted by yogurt which too, through its probiotic enzymes combats the harmful bacteria. It also moisturizes and tightens the opened up large pores to prevent future blackheads.
Get this:
Ground oatmeal- 1 tbsp
Orange peel powder- 1 tsp
Yogurt- 1-2 tsp
Do this:
Mix all the ingredients well.
Apply the paste like mixture to your nose or on areas where you have blackheads.
Gently massage in circular strokes.
Do this for 2-4 minutes and then wash it off.
Milk-Nutmeg Paste for Blackheads on Nose
This remedy to get rid of blackheads on your nose is more effective if you have an oily skin. Nutmeg excellently removes the excessive oil. The coarse nutmeg powder also has a fine scrubby effect that exfoliates your skin very well to give you a smooth skin afterwards. Milk only helps enhance this effect due to the presence of its lactic acid that breaks down old and dead skin cells. Once you are done with this milk-nutmeg scrub, you will feel the difference with very few or no blackheads left on your nose.
Get this:
Nutmeg powder- 1-2 tsp
Milk- enough to make a paste
Do this:
Add nutmeg powder to the milk and mix well to get a paste like consistency.
Wash your face to cleanse it.
Now apply the nutmeg-milk paste onto your nose and surrounding skin if it too has blackheads.
Rub gently in circular motions, but don't exert much pressure. Scrubbing done with harsh hands may aggravate the problem of blackheads.
Keep rubbing gently for 3-5 minutes.
Now wash off your face.
Egg White Mask to Get Rid of Blackheads on Nose
The best way to remove blackheads on nose is to pull them out in a gentle manner once your skin pores have been made loose with some technique like facial steam. However, the egg white mask doesn't need your pores to be opened; it pulls out the blackheads gently without leaving holes or pits on your skin. This might be because it dries on the skin and when you pull the egg white mask, it takes blackheads along with it. And due to the presence of proteins and many other effective components in egg white, your skin remains same rather healthier and glowing. Just you have to tolerate the smell of egg for a while.
Get this:
Do this:
Break the egg and discard its yellow.
Clean your face and then spread egg white all over it. Even if it is to get rid of blackheads on nose, apply the white all over your face to get an even tone after you have removed the egg white.
Apply a thin layer and allow it to dry off a little.
Now, spread a second layer and allow this to dry completely.
After it dries off, you may like to apply a third layer either on whole of your face or only on the nose or other areas where you have too many blackheads.
When the egg white dries completely and you feel the tightness on your face, take the wash cloth and dip it in warm water. Wring out the excessive water. You just need a warm wet washcloth.
With this wet warm washcloth gently scrub the egg whites off your face.
If you need to, wash your face with lukewarm water after scrubbing it with the washcloth.
You can feel the softness of your face after applying this egg white mask and your blackheads too will diminish a lot, if your skin responds positively to egg white.
You may apply this egg white mask once or twice a week.
Strawberry Mask for Blackheads on Nose
Strawberries have been accepted as one of the most wonderful sources of anti-oxidants and that itself makes this fruit a very good remedy for smooth and youthful skin. The AHA (alpha hydroxyl acids) present in strawberry too makes it a very good medium to extract the oil out of your skin that gives you blackheads. AHA sloughs off the dead skin cells to scrub off the dirt and grime that clog your pores and lead to the formation of blackheads. These berries also have Salicylic acids in them that can clean out your open pores and remove the blackheads on nose and elsewhere on your skin.
Get this:
Strawberries (ripe)- 2-3
Honey- 1 tsp
Lemon juice- 1/2 tsp
Don't throw the leaves of strawberries.
Do this:
Crush the strawberries to get a soft pulpy paste.
Add honey and lemon juice to the strawberry pulp and mix well.
Apply this to your nose and if required to your face too.
Rub gently in circular motions for 2-3 minutes.
Then wash off with lukewarm water.
After a while, wash off with cold water to close the pores.
If you still see some of the stubborn blackheads on your nose, take some strawberry leaves and crush them.
Add some honey to this and scrub your nose gently with this in circular motions. Do this for 2-3 minutes and then wash off.
Almond Face Mask to Remove Blackheads on Nose
Almonds are good for all types of skin. So whether you have oily or dry skin, almond mask can equally work wonders for you to get rid of blackheads, especially from such stubborn areas as nose. Not only does an almond slough off the dead cells, they also regulate excessive oil secretion so that you do not have clogged pores. This almond mask also use yogurt, which is again very gentle on skin and has good bacteria that kill off bad bacteria. The AHA in yogurt also, helps exfoliate the dead cells.
Get this:
Almonds- 5 OR Almond powder- 1-2 tbsp
Yogurt (plain)- 1 tbsp
Do this:
If using whole almonds, you need to soak them overnight or at least for 3-4 hours.
Grind the soaked almonds to get a coarse paste.
Now add yogurt to this almond paste and mix well.
If using almond powder, just add it to the yogurt to make a paste.
Apply this to your nose and rub gently in circular motions. Do this for 3-5 minutes.
Leave it for another 5-10 minutes.
Now wash off with lukewarm water.
After a while wash off with cold water.
Steps to Get Rid of Deep Blackheads on Nose
A blackhead having roots deep down your skin, when forcibly picked can not only damage your skin pores, but can even leave scar marks and holes on your skin. While blackhead strips are easily available to remove blackheads on nose, you can actually practice certain safe ways to eliminate blackheads on nose without experiencing the pain that sometimes accompany such blackhead removal strips. Here are the steps to get rid of deep blackheads on nose.
Step I- Facial Steam for Deep Blackheads
Facial steam has always been a favorite for beauticians and if you recall, they mostly give you a steam before picking up the blackheads and whiteheads on your nose after facial massage. Facial steam helps open up the pores of your skin along with making your skin soft. This in turn makes the blackheads to come out easily when you use a scrub afterwards. Therefore, you should do facial steaming and then use face scrubs to push out the blackheads faster. Here's how to take facial steam.
Get this:
Hot water- 1 bowl (4-5 glasses)
Towel
Do this:
Wash your face properly.
Take the water in a pan and bring it to a boil.
Put off the flame and transfer the water in a bowl. You can also take steam from the same pot too.
Now take the towel and place the bowl with hot water on a table or a plain surface like your kitchen slab.
Bring your face in such a manner over the bowl that the steam goes to your face and particularly nose. However, don't be very close to the bowl, you may burn yourself.
Cover your head with the towel so that steam doesn't escape.
Be in this position for about 1-3 minutes, for whatever time you can tolerate the heat. Don't overdo.
Then pat dry your face with the towel.
Next, you need to use a mild scrub to eliminate blackheads on nose, now soft and ready to push out the blackheads easily.
Step II- Exfoliate with Baking Soda Scrub to Eliminate Blackheads
After facial steam, you need a scrub to exfoliate your skin, but this scrub should be mild as well as effective. You don't want to rub your steamed soft skin vigorously, which might actually make the condition of nose blackheads worse. Baking soda scrub seems perfect for such a situation. Baking soda deep cleanses your pores and drives out the impurities like excessive oil, dead cells, dirt and grime without being harsh on your skin.
Get this:
Baking soda- 1 tbsp
Water- 3-4 tsp
Lemon juice (optional)- few drops
Do this:
Mix all the ingredients well to get a paste like consistency.
Clean the skin on your nose.
Apply the baking soda paste over your nose.
Leave it for a couple of minutes.
Now gently rub it on your nose in circular motion. Do this for about 2-3 minutes.
Now wash it off and pat dry.
Do this 1-2 times a week if you frequently face the problem of blackheads on nose.
Step III- Extract the Blackheads on Nose
After you have taken steam, the pores open up and after you have applied the scrub, the roots of these deep blackheads become very weak. And thus you can now eliminate the blackheads on nose easily. You may like to use the extractor for this purpose, but you may even use the all natural way by using the tip of a towel. As you know, the corners of towels are a little harsher than the otherwise soft texture of the towel. Use this corner tip of the towel as your tool for extracting the loosened blackheads on nose.
Get this:
Do this:
Take a towel and hold it in a way that the corner tip of the towel remains 2-3 inches out of your closed palm
After steaming and scrubbing with baking soda, rub this towel tip gently against the direction of your blackheads. Don't be harsh, do this gently.
Keep doing this for 1-2 minutes and then apply some rose water on your nose.
Tips to Prevent and Remove Blackheads on Your Nose
Never pick your blackheads either on nose or elsewhere on your face or other areas. This will make your skin pores wide open and invite more dirt and germs to infect the area and you get even deeper blackheads. This can also leave your skin with holes and pits.
Whenever exfoliating, don't scrub too hard. This not only opens up your skin pores wider than ever but also proliferates germs etc. To other areas of your skin that still do not have blackheads.
Never make excessive scrub at a time. While you can use a scrub stored in the refrigerator for up to a week, never use it after such a time period. And if it smells bad even before 7 days have passed, discard it. It might give your skin more bacteria, and more blackheads in turn.
Change your pillowcases often. The fabric can collect dirt, grime and dead cells from your face and may become infecting ground. Change them every other day and wash them off properly otherwise you will again and again get blackheads.
Avoid harsh face cleansers and soaps. They contain chemicals and SLS (sodium lauryl sulfate) that strip your skin of its natural oils. This leads to over production of oils by your skin. Now this excess oil clogs pores causing blackheads.
Always do facial steaming before using any scrub to eliminate blackheads on nose or face. Steam helps open up pores and also softens your skin. As such when you will scrub your skin, blackheads will come out easily without leaving holes.
Don't over wash your face. You might be thinking that if you wash face again and again you will help keep it clean and without any dirt that could clog pores. But what happens is this that frequent washing of face robs it off all its natural oils. This activates your oil glands and they start overworking. As a result, more oil is produced that ultimately clogs your pores and give you not only blackheads but acne and pimples too.
Cleanse your face. Yes, you should not over wash but you should definitely wash your face daily, twice. This can be in the morning and at night. In the morning, you have most of the oil on your face and at night there are dirt and grime all over your face that you collect from your environment. Always use mild cleansers and soaps. You may also make natural scrubs to safely get rid of blackheads on nose and face and also to prevent them from occurring again.
Don't touch your face and nose all the times. Because your hand gathers dirt, dust and even bacteria, touching your face may lead to forming of blackheads on nose or face. So, its better you keep your hands off your face unless it is absolutely essential to do so.
Keep your hair away from your face and for the same reason as for hands. Adopt a hairstyle that doesn't let your hair touch your face more often. This will prevent clogged pores and blackheads.