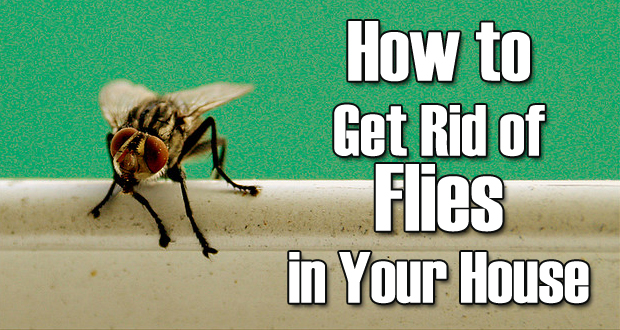 Common house flies are only one of the 1.2 million species of flies in the world. If you've got fed up with these irritating buzzing flies all over your house, its time to get rid of them. And not only because they irritate you but also because they are the carriers of disease causing bacteria. Did you know that a single house fly can carry about a million bacteria on their tiny body hair called tarsi! They get these bacteria from all the contaminated places where they go and sit such as fecal matter, garbage disposal sites, rotten foods etc. They won't and don't need to bite you to transmit these bacteria to your body. They will just sit on the open foods that lie on your kitchen slab or on the dining table and leave the bacteria in these foods. When you eat these food, your body gets all the nasty bacteria to make you ill with such diseases as dysentery, typhoid, diarrhea, and cholera. The best way to keep yourself and your family safe against these diseases is to keep your house clean and foods covered. Decaying organic filth like feces and rotting foods, meat etc. are what attract house flies. Fruit flies and drain flies too are a menace. Fruit flies are attracted by sugary things like overripe fruit, spilled soda, alcohol etc. Drain flies seek moist climates and organic materials and as the name suggests they get attracted to drains where they lay their eggs. Therefore, keeping your house, drains etc. clean and dry (as far as possible) as well as proper storing and taking care of your foods are a per-requisite to get rid of flies. Beyond that, there are many natural home remedies to get rid of flies.
Remedies to Get Rid of Flies Naturally
1. Make Flypaper Strips at Home to Catch Flies
The market is flooded with flypapers, sometimes also called fly ribbons, a pest control device. These are made of paper coated with a fragrant, sticky and often poisonous substance which traps flies and other flying insects. The poisonous substance used in these flypapers can be toxic to humans and animals too. So why not use homemade fly papers! They are easy to make and work as efficiently as the commercially available flypapers.
Get this:
Corn syrup- ½ cup
Sugar- ¼ cup
Paper, brown paper or thin cards
Scissors
Thread
Do this:
Cut 2 inch wide strips from the paper or card. Punch a hoe or two at the top of each strip and thread it to make a loop to hang at the places where flies come.
Mix the corn syrup and sugar.
Coat one side of each strip with the corn-sugar syrup. If the syrup drips, place a bowl underneath the hanging paper.
Now hang these strips where you see the flies most. They'll get attracted to the sugary syrup and when they land on these strips, they'll get stuck to it.
2. Use Plastic Water Bags to Keep Away Flies
This is rather interesting and a very effective way to get rid of flies. You just need to have a clear plastic bag filled with water. When you hang this bag at your outdoor entrances, flies will not be able to enter your house. There are at least two reasons explained for this remedy which seems to be beyond logic. One is that the flies are not able to see the water bag as a water bag. Due to their structure of eyes, clear water filled bags are seen as something resembling a spider's web by the flies. As such, they don't come near such thing. The other reason states that the reflection of water is enough to disorient the flies and to create some unexplainable illusion to them. You may also see fruit stand with water bags hanging on their stalls. They do it to keep the flies off their fruits shop.
Get this:
Clear plastic bag (gallon size)- 1
Water
Do this:
Fill the plastic bag with water. Keep it halfway full with water.
Tie a knot at the mouth of the bag to secure it properly. You may also use a thread or a rubber band for the purpose.
Now just hang this water-filled plastic bags near your entryways, garage doors or any other such outdoor entrances.
3. Try Apple Cider Vinegar to Trap Fruit Flies
This home remedy is particularly good for eliminating fruit flies because they get attracted to smell of anything which ferments. Apple cider vinegar is made by fermenting apples and thus flies can't resist its smell, especially when you heat it up a little. Heating up the vinegar release ore smell.
Make a fly Trap with Apple Cider Vinegar
Get this:
Apple cider vinegar- ½ cup
Glass jar (with or without lid)- 1
Funnel or paper to make one (if using jar without a lid)- 1
Do this:
Heat the apple cider vinegar. You can do this by using a microwave oven or heat it in a pan over your gas burner.
If using a jar with lid, make some holes on its lid, big enough to let the flies enter the jar.
If you don't want to destroy the lid, you may also use a funnel. If you can't find one, make a funnel with a paper by folding and stapling it in the shape of a cone leaving a hole at the narrow end.
Now fill the jar with heated cider vinegar and place the lid with holes over it.
If using a funnel, place the funnel on the mouth of the jar with narrow side inside the jar.
Now place the jar where flies are seen most of the times.
Let it be there for a day. Flies will get attracted to the smell of vinegar and enter the jar through the holes. Once inside, they get trapped. Flies can't figure it out that they can even fly out from the same hole that worked as their entrance.
4. Homemade Flies Repellent with Lavender Oil
Lavender oil is popular as a nerve-calming oil but few people know about its excellent insect repelling properties. Lavender has been used by people in the past to protect clothes from moths and other insects. Lavender oil can, in fact, prevent mosquito bites as well as other insects bites. It is just the perfect essential oil which helps control the infestation of flies along with repelling fleas, black fly, black beetle, greenfly and whitefly too.
How to Make Lavender Fly Repellent at Home?
Get this:
Lavender oil- ½ – 1 cup
Tin can with lid- 1
Cloth or a dish sponge
Do this:
Dip the cloth or the sponge in the lavender oil.
Now place this cloth or sponge in the tin can, put on the lid and leave it for 24 hours.
After 24 hours, remove the lid and keep the tin at a place where you see most of the flies in your home.
After using, replenish the oil as the air weakens the strength of the oil. Cover and store the ting containing your fly repellent.
Take precaution not to let it come in contact with your skin as it is in undiluted form.
You can also use some other essential oils in place of lavender oil for making this fly repellent such as Citronella, Eucalyptus, Pennyroyal, Peppermint or Lemongrass oil. However, unlike lavender oil, you need to dilute these oils with alcohol or water in 1:3 ratio where you will use 1 part oil to 3 parts of water or alcohol. Oils and water do not mix well so usage of alcohol will be more effective. Lavender oil, however, is the best one when it comes to repelling flies.
5. Use Cloves to Repel Flies
Cloves are pleasantly aromatic for us but are not liked by flies. They cannot stand the scent of this spice that is extensively used for culinary purposes. Cloves are particularly effective in repelling house flies. In this remedy for flies elimination, cloves are used with lemon, yet another smell that flies are not fond of.
Get this:
Do this:
Cut the lemons into halves.
Now poke 6-12 cloves into each of the lemon halves. Poke with the pointed part of the clove so that the bud remains upwards.
Arrange these cloves poked lemon halves onto a plate.
It makes an aromatic and beautiful looking centrepiece for your table, especially when you have meals with friends outdoor like in a barbecue party or a picnic.
You may also wrap some cloves in a cheesecloth or a muslin bag to hang them in flies infected areas.
6. Make Lemongrass Spray to Keep Away Flies
This is one remedy that will not only keep flies away from your house but will also keep your home refreshingly aromatic. Flies don't like the smell of lemongrass just like lavender and many other plants and oils. So, you can use this essential oil got from lemongrass to make your flies spray that also works as a room freshener.
Get this:
Lemongrass essential oil- 10-12 drops
Hot water- 4 tablespoons (about ¼ cup)
Spray bottle
Do this:
Pour 10-12 drops of lemongrass essential oil into your spray bottle.
Now pour hot water over this oil.
Shake well to mix both the ingredients.
Now spray this all along your doorways and windows or any other space from where flies enter your house.
You can also spray it directly on the flies whenever or wherever you spot them, just keep the bottle handy so that you can find and use it easily.
7. Use Wine to trap Flies
Now, this is something that wine lovers will be hesitant doing. After all, you need to waste some of your wine to lay a trap for flies. As these flies get attracted to anything that is fermented, wine makes a good choice as a bait for them. You may use red wine or white wine whatever is available with you.
Ways to Use Wine to Make a Fly Trap
You may pour about ½ a cup of wine in a glass and place it somewhere near where flies will spot the glass. After a while, you'll find some of them floating in it.
To be doubly sure that flies don't just fly away after having some, use some dish wash liquid too. Take a bowl or a pan and pour some wine into it. Also, pour a little dish wash soap. Now place the bowl where flies are seen the most. Once they land on this solution, they'll not be able to escape.
You may leave some wine in the bottle itself and place the same without cap close to the area frequented by flies. If the mouth of the bottle is too wide, use a plastic wrap to cover it. Poke some holes on this plastic wrap so the flies could enter the bottle. They would never exit through the holes.
8. Basil and Other Herbal Plants to Get Rid of Flies
Basil is very beneficial for us but flies somehow doesn't like its fragrance. You can plant basil in a pot near your doorways to keep away the flies. Not only will this stops flies from entering your house but will also make the surrounding environment healthy as basil is a strong anti-bacterial and anti-viral herb. In India, you can find basil plant in almost every house where they worship it. If you can not plant it, get some dried basil leaves and tie them up in a cheesecloth or a muslin bag. Now keep this in flea infested area or hang it near your entrances and windows etc. There are many other herbal plants that can keep flies away from your house. Plant them or use their leaves to repel flies. Here is the list of such flies repelling plants.
List of Plants that Act as Flies Repellents
Basil
Lavender
Bay Leaf
Tansy
Mint
Rue
Wormwood
Marigold
9. Make Clove Oil Skin Lotion to Keep Away Flies
While clove can be used as an effective flies repellent, you may also use its oil to make a skin lotion so that you may not be disturbed by flies till they are fully exterminated from your house. However, you can not use clove oil directly on your skin which may cause irritation and burning sensation along with damage to your nerve functioning. Use some diluting agent to make this very useful skin lotion to deter flies.
How to Make Flies Repellent Skin Lotion with Clove Oil?
Get this:
Clove oil- 1 tsp
Olive oil or Witch Hazel- 10 tsp
Small bottle to store
Do this:
Pour clove oil and your choice of diluting agent like olive oil or witch hazel into the bottle. Always use 10 parts of diluting agent with 1 part of clove oil.
Shake well.
Apply this lotion on your uncovered body parts whenever you need to keep the flies or any other insects away from you.
10. Milk-Sugar-Pepper Trap for Fruit Flies
If you are bothered a lot by fruit flies, here's an age-old recipe to make a sugary milky trap for them. This method has been used in England since ancient times. As sugary substance does attract fruit flies, it seems to be used in this milk recipe for trapping flies.
Get this:
Milk- ½ liter
Sugar- ¼ cup
Ground black pepper- 4 tbsp
Do this:
Pour the milk in a saucepan.
Add sugar and pepper to the milk.
Now let the solution simmer for 10-15 minutes.
Now take some shallow dishes like soup plates and pour some of this milk solution in each of them.
Place these dishes all around your house, especially where flies come most of the times.
Flies will get attracted to this solution and when they land on it, will suffocate and drown.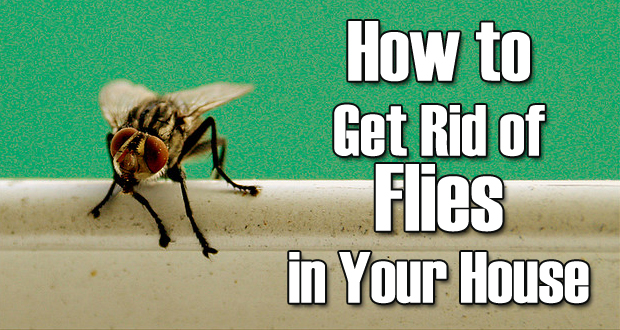 11. Honey Trap for Flies
This is literally a honey trap where you use honey to trap the flies. While the sweet fragrance of honey will attract the flies, the sticky nature of honey will not let the flies escape. In fact, you can even use any fruit jam for the purpose. The smell of fruits anyways will bring the flies near your trap and they will get stuck once they enter it.
Get this:
Soda Can or a Plastic bottle- 1
Honey- 1-2 tsp
Water
Dish soap liquid
Do this:
To make the trap, cut the soda can or the bottle in two halves. The bottom half will be bigger than the top half.
Now fill the bottom half with water. Fill it halfway.
Put a few drops of dish soap in the water.
Now take the top half of the soda can or the bottle (without cap) and place it in an inverted position over the water-filled portion of the can or bottle. The mouth of the can or bottle with a hole will be into the water filled the bottom.
Now smear honey or fruit jam near and all around the mouth of the can or bottle which is inside the bottom part.
Place the honey trap close to flies infested area.
Flies will get attracted toward the honey and once they get near it, will drown into the water through as they enter the bottle or can through its hole. They won't figure it out how to exit from there and will drown in the water.
12. Use Camphor to Repel Flies
Camphor is somewhat like a dry waxy, white substance derived from the wood of the Camphor Laurel tree. It has a strong smell that deters flies and other insects. It has been traditionally used in India to purify the surrounding environment as it has strong antibacterial, anti-viral and insect repellent properties. It is commercially available in form of small tablets.
Ways to Use Camphor to Get Rid of Flies
Take 2 camphor tablets and place it on a warm surface. You may use your mosquito repellent device or use a heat diffuser or you may simply heat up a metal plate and place the camphor tablets on it. The flies will go away due to the smell has given out by camphor.
If you too don't like the strong odor of camphor, just place the camphor tablets close to places where flies frequently come.
Take some water, preferably hot water in a bowl or a wide shallow plate. Place 2 tablets of camphor in this water and keep near the flies infested areas.
Precaution: Pregnant women should not use camphor as a fly repellent
13. Use Eucalyptus Oil to Get Rid of Flies
Eucalyptus is also a good fly repellent as they do not like the strong odor of this tree. This oil is safe for use by humans too. Many people claim that lemon eucalyptus can repel flies more effectively by also confusing them. It masks the carbon dioxide and lactic acid naturally emitted by humans. However, it has to be diluted with water or other oils such as grapeseed oil before you can use it on your skin. You may also make a Fly strip using eucalyptus oil to keep the flies away from your house.
Get this:
Eucalyptus oil
Ribbons or cloth strips
Do this:
Pour several drops of eucalyptus oil onto the ribbons or cloth strips.
Place these cloth strips on window sills or hang them near windows and doors.
Precaution: Avoid using eucalyptus oil if you are a pregnant woman or you suffer from such conditions as high blood pressure or epilepsy
Most Common Question And Answers:
Q: What are the types of flies:
We can see various species which we found in and around our surrounding. Do you know there are approximately 120000 species of flies are there in this universe. Knowing about some of these commonly seen flies will definitely help you in identifying them and thereby use of most effective fly control methods to get quick relief from these flies.
House flies (a most common one as filth flies)
Bluebottle fly
Fruit fly
Drain fly
Flesh fly
Black flies
Cluster fly
Crane fly
Face fly
Horn fly
Sand fly
Yellow fly
Blow fly
Dung fly
Where do flies go in the winter?
Like all other insects, these flies don't truly hibernate but they enter into a state of diapauses that slows down their development and appetite until the temperature rises to make them active again. They live in the sort of flowing water, including streams and rivers. They simply lay eggs in the running water and the larvae get attach to rocks before emerging as flying adults.
What causes flies?
Flies get easily attracted to food (rotten foods), unclean areas, vegetations, faecal matter, and moist climates like drains. So, the first and most essential step is to keep your home clean and dry to get control of this fly infestation.  Other causes include animal waste (which is perfect for their larvae), garbage (open garbage is an invitation for flies and moist in the garbage is suitable to lay their eggs), decaying plant matter (perfect for houseflies to lay eggs and rainfall will provide food and hospitable environment to the flies) and moist environments (flies need moist places to deposit their eggs which develop into house flies over time).
What is the best home remedy to get rid of flies (OR) How do you get rid of flies in your home?
There are many natural remedies that work well in clearing these houseflies effectively. Choose one of the methods as per your convenience and try it to get relief from these nasty insects in and around your home.
Make flypaper strips at home
Hang plastic water bags at your outdoor entrances
Apple cider vinegar to trap fruit flies
Use flies repellents like lavender oil or peppermint, lemongrass, citronella, eucalyptus or pennyroyal.
Place cloves inserted lemon wedge on the table where you find these flies.
Spray your home with hot water diluted lemongrass essential oil to keep away these flies.
Grow some fly repelling plants like basil, lavender, bay leaf, tansy, rue, mint, marigold, wormwood, etc. in and around your home to keep the flies at bay.
Apply clove oil by diluting it with olive oil in 1:10 ratio and apply it on the uncovered body parts to keep these flies away from you.
Use camphor diluted water to get rid of flies.
What essential oils get rid of the flies?
Flies are well-known transporters of more than 100 pathogens that result in various forms of illness like cholera, tuberculosis, typhoid and dysentery. There are plenty of essential oils which you can choose and use it to get rid of flies why because flies dislike the odor of these oils.
All you need is to dilute these essential oils in either water or alcohol in 1:3 ratio and use it to spray on the areas where you find these flies.
Here is the list of fly repelling essential oils
Lavender oil
Lemongrass oil
Citronella
Peppermint
Basil (sacred basil)
Eucalyptus
Thyme
Rosemary
Clove
Geranium
Tansy
Pennyroyal
Tea tree oil
Can vinegar get rid of flies?
Vinegar, especially apple cider vinegar is an excellent remedy that used widely to eliminate the flies (both fruit flies and house flies). The flies get easily attracted to its fermented smell of apples.
Here is the process on how to use vinegar to get rid of flies.
Take ½ cup of apple cider vinegar and heat it for a few minutes.
Then take a jar and make holes on its lid so that the flies are allowed into the jar.
Or you can simply place a paper funnel leaving a hole at the narrow end.
Fill the jar with this heated vinegar and cover it with either lid or paper funnel.
Now place this vinegar jar in a place where you find these flies in and around the home.
Let it sit for the whole day to get attracts all the flies and when once they trapped, you need to discard this vinegar.
Continue the same process with a new vinegar jar until you get complete relief from these flies.
Note:
Or pour some apple cider vinegar with sugar and some fruit scented dish soap in a shallow dish bowl and stir well. Place it on the flies infested areas with a plastic wrap that poked with a few holes to attract the flies and thereby to get rid of them.
Apple cider vinegar is the best kind of vinegar that widely used to kill fruit flies why because the fruit flies get attracted towards the fermenting apple smell in this vinegar type.
How to you make a fly trap?
Flies can cause problem wherever you found in and around the home. However, there are many traps and sprays available in the market but they contain chemicals which may cause danger to the health.
So the best option is to make your own fly trap in a few simple steps to eradicate them naturally without harming your health and environment. Here we are going to know a few ways on how to make a fly trap.
Bottle Fly Trap:
This method works well in preventing both fruit and house flies effectively. Have a look at how to make this trap to clear the flies from your place.
Take an empty soda or water bottle and clean it with warm water.
Cut the top off from the bottle by using a pair of scissors in such a way that you should cut off the entire top funnel.
Flip the cut piece over the bottom half of the bottle in such way that it should stick inside as you slide it in.
Now join the two cut edges of the bottle parts together by staple or taping or using superglue and hold the two pieces in a place until it gets dried.
In the meanwhile, prepare sugar water by adding enough water and 5 tablespoons of sugar in a pot and heat it for a few minutes until it boils.
Leave the mix to get lukewarm and pour this liquid along the edges of the funnel so that the flies come towards the funnel and gets stick to it.
Or use some apple chunks or pour few tablespoons of white vinegar or a piece of raw meat with a few tablespoons of old wine into this bottle to attract flies.
Place this bottle in a sun to make the fruit/meat to rot and to evaporate the liquid mixture to draw the flies towards the trap.
Finally, place this bottle where you find flies and leave it like that for a whole day.
Discard the bottle when you see the flies begin to accumulate and prepare a new one.
Continue doing the same process regularly till you get relief from these flies in and around your place.
Tin Can Fly Trap:
Take a suitable soup can and remove the label and can lid.
Rinse the can thoroughly with warm water and dry it properly.
Cut out the length of duct tape and wind around the can.
Press the duct tape tightly and give it a gentle rub to transfer the stickiness.
After that, remove the duct tape from the can and if you find the can is not sticky then repeat the same with a new length of duct tape.
Now tape a small flashlight to the underside of a can lid, prefer to put UV flashlight.
Put the can outside at night in an upright position so that all the stickiness is available to catch those nasty flies.
Leave it for overnight so that the flies will be attracted to the sticky sides of a can.
Discard the can after wearing a pair of gloves and replace the can with a new one till you get relief from these nasty flies.
Plastic/Glass Jar Fly Trap:
Take a small plastic or glass container and pour about an inch of vinegar into it (to attract flies).
In that, add a few drops of dish detergent or soap to this vinegar to break down the surface tension.
Or you can simply add some ripe fruit or raw meat instead of vinegar and dish soap in which the rotting smell of this food will attract flies to the container.
Cover the container with a plastic wrap tightly around the rim of the container (or place a rubber band around the wrap).
Now simply poke holes in this plastic wrap by using a toothpick or scissors in such a way that at least 4 small holes to be poked in this wrap.
Put this container in a place where you find these flies and these flies get attracted towards the container and get into it.
This trap will make the flies unable to come outside and these flies are killed over a period of time.
Discard the container and continue doing the same process regularly till you get relief from these flies in and around your home.
DIY Sticky Fly Paper:
Take a grocery store paper bag which is tall but not a plastic bag.
Cut out strips of the paper about 1 inch by 6 inches by using a pair of scissors.
You need about 4 – 6 strips and lay them flat on the table.
Then poke holes in the strips by using a small knife or hole-punch.
Cut a piece of string/wire is at least six inches long and tie a string through the hole.
Pour 1 part each of sugar, honey and water into a saucepan and place it on the stove.
Heat it on a medium high till the ingredients are mixed well and let it cool to room temperature.
Dip this paper fly strips into this mixture in order to coat and place them on a baking sheet.
Leave it to dry out completely and hang the strips up all over the house, especially where you find these flies.
After the strips get coated in flies and throw these paper strips away to get relief from these flies.
Continue this process regularly to control the fly infestation in and around your home.
Homemade Simple Trap:
Simply combine ¼ pound of raw sugar, 1 pint of milk and 2 ounces of ground pepper in a saucepan and place it on the heat.
Simmer for 10 minutes and then pour it into shallow dishes.
Put these dishes all around the house where you find the fly infestation, especially fruit flies.
If you want, you can add 2 drops of dish soap to this mixture for effective results.
Leave it for the whole day and discard the mixture.
Repeat the same for a few times till you get relief from these fruit flies.
What attracts flies in the house?
Before knowing what attracts flies into your home, you need to identify its species of this pest before encountering. Common houseflies will be attracted to decaying organic filth such as feces or rotting meat. Fruit flies attracted towards the sugary substances and feeds on the overripe fruit, spilt soda and alcohol.
Drain flies get attracted to moist climates and organic materials along with drains where they lay eggs. So, identify what fly is attracted to home (like heat or warm environment, lights, garbage or waste, dumpsters, dirty drains or organic material, animal carcasses, bird dropping or damaged food products) and thereby take preventive measures to get rid of this infestation.
Where do flies lay their eggs in the house?
Whenever you need to eliminate their populations, you need to understand eating and breeding patterns of certain flies. So, it's important to know where these flies will lay eggs in your home. Most of the fly species will lay their eggs in moist, dark piles of trash, rotting carcasses or manure.
Fruit flies will lay their eggs in overripe fruit or other sugary substance whereas biting flies require a blood meal in order to trigger laying eggs. So, always keep your home clean and dry to get rid of this infestation.
How do you get rid of drain flies?
The first and foremost thing to do is to clean your drains for once a week regularly to get rid of flies. Drain flies (or moth flies or sewer gnats) will lay their eggs in the organic matter that builds up in the drain pipes.
Identify the area where this problem occurs by examining all the drains in and around your home. You can get rid of this infestation by catching the problem early.
Dry all the drain areas at night before going to bed and then place a strip of clear tape over each drain (not completely).
In the next morning check the tape if any drain flies caught on this tape. Repeat the same process regularly.
Also, remove the hair catcher or filter from an affected shower drain and clean it thoroughly.
Make use of metal pipe brush by twisting the brush while slowly moving it up and down to remove the grime from the sides of the pipe.
Use cleaners along the edges of the drain to remove organic matter (or) use some traditional remedies like vinegar, salt, boiling water, baking soda and bleach to clean the drain.
Finally, after leaving the sink untreated for several hours, flush it with plenty of water to remove remaining organic matter trapped in the sink.
Use a fly swatter or space spray or insect growth regulator spray to kill the adult flies from laying more eggs and also to keep the drains clean.
Use natural ways of pouring 1/2 cup each of baking soda and salt along with 1 cup of vinegar down the drain and let it sit for overnight. In the next morning, follow with a pot of boiling water.
Regularly pour a pot of boiling water down the drain for 1 – 2 times daily for a week.
How do you get rid of cluster flies in your house?
Cluster flies will live outside during the warm spring and summer months by simply feeding of flowers or fruits but in the cool months, they find a way into buildings through small cracks and crevices. They hide in dark corners, any tight space, behind curtains or pictures, inside a door, underneath furniture, window casings, etc.
Here are a few tips and precautions that help in cluster fly prevention and control.
Prevent flies from entering your home by simply sealing all the visible cracks or holes on the exterior with caulk. But make sure that it should be done in the early summer before cluster flies seek a place to overnight.
Apply a residual pyrethroid-based insecticide like Demon WP or Suspend SC on the exterior of the building in the late August or early September (spray it on attics, basements, closets, storerooms and other areas, if spring has emerged). So that when they land on these surfaces, they die before they enter your home.
If already these pesky cluster flies entered into your home (in spring weather) then you have to follow these tips like using a vacuum hose to remove flies which appear in basements, attics, false ceilings or crawlspaces and keep a contact pyrethrum spray such as CB – 80 on hand and spray it as needed to kill these flies.
Regularly inspect all around the windows or doors or any other darker places in and around your home for live or dead flies and thereby take preventive steps like applying small powder duster to enclose void to get rid of these flies.
Install fly light traps in attics or false ceiling to deal with cluster flies and remove them effectively.
What can I put on my dog to keep flies off?                                
Exposure to fly infested areas can leave your furry friend vulnerable to fly attacks which often break the skin and thereby results in infections. The use of any chemical based products to keep these flies away from dog's skin will be both frustrating and potentially dangerous to their health.
Flies can be drawn to dog's coat, especially if it is matted or unclean as a result of an illness or skin condition. Some species of flies will bite out of your dog's ears, belly or backside which can hurt, bleed or infected.
This type of infestation should be prevented by keeping your home and dog clean and healthy. Flies are active during the day in hot weather so if these flies tend to bother your dog then make sure to keep her inside during that time and solve any medical issues that make the dog clear this fly infestation.
So, keep the dog clean and healthy will keep these flies at bay. Have a look at some tips to keep these flies on the dog's skin like applying petroleum jelly to the area to prevent biting, apply natural pet safe repellants (mix apple cider vinegar & water, lemon & water) and make sure to talk with your vet.
How do flies reproduce in the house?
House fly eggs are laid in almost everywhere it is warm, moist environment that supplies suitable food for the larvae. A female may lay a total of 5 – 6 batches of 75 to 100 eggs which can hatch in 12 – 24 hours in a warm weather. Poor sanitation ripped screens and unsealed cracks in the doors and windows are the best places for the flies to reproduce in the house.
What do fly eggs look like?
The lifecycle of the flies are categorized into 4 stages like fly eggs, larvae, pupae and fly. Flies lay eggs in different sizes, shapes and location which depend on their species. House fly eggs look like small grains of rice and these eggs hatch within 24 hours and emerge as larvae.
What causes fruit flies in the bathroom?
Some fruit flies will make their home in the areas where it is not practical to place a trap like a shower drains, bathroom sink drains, toilets, etc. due to wet and damp places. Do you know a female can lay 100 eggs per day and they hatch these eggs within 12 – 15 hours? Here we are providing some simple tips to get rid of fruit flies in your bathroom.
So, to get rid of this fruit flies problem in those areas, you should pour boiling water (or boiling white vinegar) down drains and toilets and always keep them clear of hair and other debris to create an inhospitable environment for their breeding grounds.
Fill a small bowl with apple cider vinegar and cover the bowl with a saran wrap in which it is poked with a bunch of small holes by using a toothpick. Place this bowl near the sink where you find these fruit flies in your bathroom and leave for overnight. Replace the vinegar and repeat it regularly.
One should keep any wet mops, rags, sponges and crumpled towels dried sufficiently before making their way into the bathroom. Old rags and mops should be replaced and sinks and drains should be cleaned thoroughly.
How long do drain flies live for?                                                      
An adult drain fly usually live for about 2 weeks but in the meanwhile, the newly emerged adults will replace their position and increase their population.