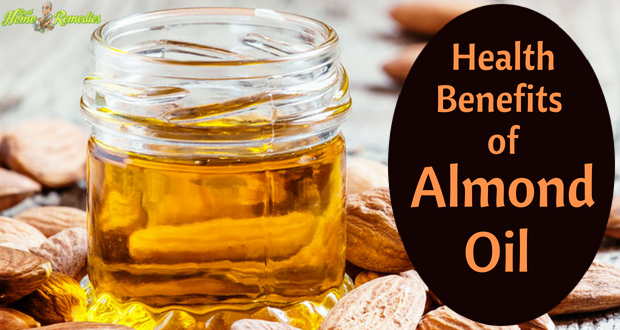 Almond oil is a gift of nature. It is high in Vitamins – A, B, D, and E, dietary fiber, zinc, essential minerals like manganese, potassium, magnesium and copper, healthy fats that can lower the level of LDL cholesterol, and is packed with antioxidants. And this is why almond oil has many beauty and health benefits. In fact, raw almond can also be used in food to prepare salads and toasts to get its health benefits. After all, oil comes from raw almond only.
Talking about beauty and health benefits of almond oil, you can use it for skin and face care, to treat eczema, psoriasis, and many other skin ailments. Almond oil can also remove dark circles and stretch marks, nourish the eyebrows, and help you get rid of dandruff.
The Two Types of Almond Oil
There are two types of almond oil. They are,
Bitter essential oil, and
Sweet almond oil.
Sweet almond oil, which is sometimes referred to as "pure almond oil" is used for therapeutic purposes. This is highly refined, and thus the name "sweet". Working as a non-greasy lubricant, this almond oil works very well on the face and sensitive skin. Your skin will absorb the oil very quickly. This is why almond oil is often used in massage therapy. You can apply the oil even if you have dry and flaky skin that becomes irritated quickly. Pure almond oil works very well both on the skin and hair.
Bitter almond oil, the other variant of almond oil, is used for flavor and as a scent. This cannot be applied to the skin. It is mostly meant for a smell. This variety is extracted from bitter almonds having a glycoside known as amygdalin that when processed, turns into toxic hydrocyanic acid. Be careful. The consequences of accidentally consuming it can be grave.
Most almond trees you will find in the wild produce bitter almonds. They have glycoside in varying degrees.
Sweet almond (Prunus amygdalus var. Dulcis), on the other hand, are mostly cultivated. These trees were first grown in the Mediterranean region and in Southeast Asia. Almond kernels and the oil were extracted for its many health benefits. People in these places have known about the almond oil benefits for thousands of years.
So now, when you know what almond oil to use for health and beauty benefits, let's move on to know what are the benefits of almond oil.
Almond Oil Beauty Benefits
A study carried out in 2007 by the Departments of Pharmaceutics at Hamdard University in India discovered that sweet almond oil can prevent UV damage to skin and can also remove the skin damage that has already happened due to harmful sun rays.
1. Almond oil give Smooth and Flawless Skin
The oil extracted from sweet almond is hypoallergenic. You can rub this oil even on the skin of a baby. Actually, you will rarely find a better massage oil than sweet almond oil. The smell is a bit nutty and very pleasant. Thanks to the Vitamin E present in this oil, you will have smooth and flawless skin. 
Get this:
Almond oil
Lavender oil (optional)
Do this:
Warm the sweet almond oil. Make sure that it is not too hot or too cold, it should be slightly warm or equal to body temperature. This will improve absorption.
Mix lavender oil if you want – just a few drops. This will make it soothingly aromatic.
Rub the almond oil gently on skin and leave it for a few minutes before wiping it off with a soft cloth or cotton. In fact, you may just apply it and forget, if it doesn't make you feel too oily.
2.  Use Almond Oil to Get Rid of  Tan and Dark Circles
Apply almond oil to remove those puffy eye bags and dark circles from under the eyes. You have to apply the oil each night before you go to bed. You will see a marked improvement in just two weeks. The tan will also go away.
Prolonged exposure to the sun can cause redness and pain. Apply the oil on these dark patches to get quick relief. Vitamin E in the oil will rejuvenate your skin and lighten it. Your wrinkles will go away too with the regular use of almond oil. 
Get this:
Almond oil- 8-10 drops
Lemon juice- 2 drops
Honey- 1 Tsp
Do this:
Take a few drops of almond oil and place it in a small container.
Mix two drops of lemon juice.
Mix one teaspoon of honey.
Now use your fingers to rub the oil on your face. Massage the oil gently in the tanned areas and below your eyes.
Leave it for 30 minutes.
Wash off with cold water.
3. Deep Skin Cleansing with Almond Oil
Light in texture, almond oil can penetrate into your skin easily. It can efficiently soften and dislodge dirt from the pores of the skin and hair follicles. Open up the pores and you will reduce the risk of acne and pimples. Its Vitamin A content will reduce flare-ups.
Almond oil does not cause any allergic reactions, so you can apply it even if your skin is sensitive. You can use the oil to remove makeup as well.
Do this:
Dip cotton into an almond oil.
Apply on your face.
Keep it there for a couple of minutes.
Wipe it off gently with another cotton piece.
Make a scrub with almond oil to deeply cleanse skin
You can also make a facial scrub with fine sugar and almond oil.
Get this:
Almond oil- 2-3 tbsp
Sugar- 1/2 -1 Tsp 
Do this:
Mix the two and apply on face.
Work in circles to remove the dead cells and grime.
You can do this once every week to have radiant and beautiful skin.
4.  Almond oil Removes Dead Skin Cells and Impurities
Skin can look dull when dead skin cells accumulate because of external factors such as dirt, sweat, pollution and others. Use almond oil to get a glowing skin.
Get this:
Almond oil- 8-10 drops or Almond powder– 4 to 5
Lemon juice – 2 drops
Milk – 1 teaspoon
Gram flour- 1-2 Tsp
Do this:
Mix all the ingredients well. Use some more milk if it becomes too thick. You need a paste-like consistency.
Now apply this on your face. Massage in small circles.
Wash it off with cold water after 30 minutes.
5. Fine Lines and Wrinkles Home Remedy with Almond Oil
Almond oil reduces signs of aging and fine lines. All of us want youthful skin that is smooth and supple. The collagen protein gives us this look. There is collagen padding under the skin that keeps it supple and taut. However, with time, as you age, this padding becomes uneven and the layer of skin gets thin. This is when the wrinkles begin to appear.
Aging is a natural process that happens to all of us. But sometimes, dehydration, tobacco consumption and smoking, stress, as well as excessive exposure to the sun's harmful UV rays can lead to premature aging. The good news is, you can slow down the process of aging with the right skin care regimen. Almond oil can help you here.
Vitamin E, present in the oil is a very powerful antioxidant. It can repair damage to the collagen layer thus making your skin youthful. Rich in amino acids, almond oil will actually help your body make collagen, and thus the padding won't get uneven with age. An external application will prevent dehydration. Your skin won't lose as much moisture as well.
Get an almond oil massage and you will certainly be able to remove wrinkles and fine lines. The dull and aged skin becomes tighter as the blood flow improves when you massage with nourishing almond oil.
Get this:
Almond oil – 2 teaspoons
Vitamin E oil – 2 drops (optional)
Do this:
Heat the almond oil. Don't make it boil or you will burn the skin. You should be able to bear it when you apply the oil to your skin.
Now add the Vitamin E oil if you want.
Apply on a face. Use your fingertips to massage gently in circular motion.
Massage for 5-10 minutes.
Wash off your face with cold water. Pat dry.
6.  Almond Oil for Skin Rashes
Babies often have skin rashes around the nappy region because of wearing diapers. Adults have rashes too from rubbing against hard materials like undergarments. Skin to skin friction can cause chafed skin, and this can cause burning and soreness. Physicians will normally prescribe zinc-based ointments for reducing the inflammation. Try almond oil instead, as these creams often contain harmful chemicals that can irritate the skin even more. Also, zinc is present in almond oil in a natural state.
Get almond oil
Do this:
Dip two of your fingers in the almond oil.
Rub the oil gently in the affected place.
The oil will be absorbed quickly. Leave it till you see complete absorption.
You can apply the oil anywhere in your body or the skin of a baby. It is completely safe.
7.  Use Almond Oil to Remove Acne
Almond oil contains fatty acids that can effectively dissolve sebum as well as impurities that cause pimples and acne breakouts. The oil will also cleanse the pores in your skin and repair the damage already made. Not only will almond oil remove the acne, but it will also prevent future pimple breakouts. There are simply too many almond oil benefits for a face!
Get this:
Almond oil – 2 teaspoons
Organic honey – 2 teaspoons
Do this:
Mix the honey and almond oil in equal parts.
Apply this mixture to your face.
Leave the mixture for 20 minutes.
Wash off with cold water. Pat dry.
Almond Oil Benefits for Hair
Almond oil benefits for hair are well known. Use the oil regularly, and you will surely have better and healthier hair. In fact, almond oil is more effective in improving the hair's texture and sheen as compared to coconut oil.
8. Use Almond Oil to Stop Hair Fall
Magnesium deficiency is a common cause of hair fall. This is why many hair care products contain magnesium. Try almond oil, magnesium is naturally present in it. The natural and healthy source doesn't cause any side effects.
You just need to get almond oil for this.
Do this:
Apply the oil a couple of times on your scalp.
Massage your scalp gently for a few minutes.
Take a towel and soak it intolerably hot water.
Now wrap the towel around your hair as this will improve absorption.
Keep it for 30 minutes before washing off with a mild shampoo.
9. Almond Oil Reduces Scalp Inflammation
Your scalp is regularly exposed to chemical styling products, heat, pollution, and dust. They can all cause inflammation to scalp. You may treat the condition with almond oil because scalp inflammation can cause dandruff and hair fall.
Massage your scalp regularly with almond oil to bring down inflammations.
The fatty acids in it will moisturize and soften the scalp tissues.
Blood circulation will also improve, which again will soothe the inflammation.
Almond Oil Health Benefits
10. Almond Oil for Diabetes
We have diabetes when our cells or pancreas are not able to make insulin properly. This causes a hike in the blood sugar levels in the body. Both almond oil and almond are able to regulate the levels of blood sugar very efficiently.
Research findings:
Researchers at the Purdue University in the United States have discovered that consuming whole almond, almond flour, almond butter, and applying almond oil decreases the blood sugar levels and prevents diabetes. The research subjects felt fuller and said no to a second serving, a very common habit among diabetic patients and those in the pre-diabetes stage.
The test revealed that almond oil was as effective as whole almond in producing insulin after consuming the first meal.
In fact, almond oil was more effective than almond butter and almond flour.
St. Michael's Hospital in Toronto (Clinical Nutrition and Risk Factor Modification Center) carried out a second study. According to the findings of this study,
Almonds, when taken with carbohydrate foods reduce the glycemic levels, helping people with insulin resistance.
Almond oil benefits were further proved when the researchers discovered that even massaging the body with the oil may prevent diabetes or its management.
Do this:
have raw almonds as snacks and use them in food preparation
Use almond oil as a dressing for your salads
Massage body with almond oil
11.  Almond Oil for Colon and Rectum Health
Problems with the colon can be very painful. Thanks to almond oil health benefits, you can get quick relief and even avoid the situation altogether. Children, for instance, are sometimes administered an almond oil injection to treat a rectal prolapsed. It is often the first line of treatment. In adults, consumption of almond oil can bring down the risk of colon cancer.
Research findings:
Cairo University's faculty of medicine carried out a detailed study among patients who had idiopathic pruritus ani, which is an itching in the anal region. They had almond oil injections instead of the regular medication. 93 percent of the participants were cured permanently after receiving just a single treatment session. The remaining seven percent were cured after the second session of treatment.
Do this:
Take two teaspoons of almond oil and drink it if you have mild constipation.
You can also use the oil while preparing vegetables or salads.
Research findings have also revealed that almond oil can provide relief from the irritable bowel syndrome.
12. Almond Oil For Earaches
Many adults, even children, have earaches. It's a common problem. There are many reasons why you may have an earache. Luckily, there are many effective treatments available for ear infections and pain. Sweet or pure almond oil is a good option. It will provide you quick relief.
The oil can soften ear wax and remove a blockage in the ventilation tubes. Unlike many earwax softeners, pure almond oil is safe for your ears, even if you have microscopic cuts inside. Over-the-counter earwax softeners may cause infections when they come in contact with the small abrasions inside the ear but almond oil is safe.
Get this:
Water – 1 teaspoon
Almond oil – 3 drops
Do this:
Take a teaspoon of water and warm it. Make sure that it is not too hot. Just a little warmer than room temperature.
Add almond oil into the water.
Drop it carefully into the ear so that it finds the way into your ear canal.
Precaution: If you are not comfortable doing this with your ear, don't do it. Visit your doctor.
13. Almond oil for Strengthening Bones
Almond is rich in micronutrients like calcium that is responsible for strengthening the bones. The oil will also give your body other nutrients that will improve the bone's mineral density, and this too will strengthen your skeletal system.
Massage yourself and importantly your baby with almond oil to strengthen his muscles and bones, and also to improve blood circulation. The massage promotes early muscle and bone development. The oil will help you relax those tensed muscles and beat stress. This is why almond oil is used in aromatherapy too. You can fight fatigue and depression with this oil.
14.  Almond Oil to Prevent Cardiovascular diseases
The low sodium and high potassium content of almond oil help in maintaining the levels of cholesterol and blood pressure. This prevents cardiovascular diseases. In fact, its protein and folic acid contents actually improve cardiac health.
Research findings:
The results of a study published in the Journal of Research in Medical Sciences in 2014 say that almond oil can improve cardiovascular health and lower the level of bad cholesterol in the body. Like high cholesterol, heart disease to is sometimes caused by chronic inflammation. Real foods with anti-inflammatory and antioxidative properties lower the risk of several health conditions. Almonds and almond oil are such foods.
Do this:
Include almonds in your regular diet.
Use almond oil in your salads and veggies
Prepare foods with almond oil.
Also, include omega-3 fatty acids and superfoods such as kale and eggs.
By regularly consuming almond oil and these foods, you will be able to increase the level of HDH cholesterol (good cholesterol), and bring down the level of LDL (bad cholesterol). Its unsaturated fat and Vitamin E will transport nutrients and oxygen easily through the blood, and make your heart healthy.
15. Almond Oil for Immunity and Digestion
Almond oil benefits the immunity system. By regularly consuming this oil, your body will become stronger and can thus fight infections and other issues better. Almond oil is also an efficient laxative and it helps digestion. Besides, the mild laxative will loosen stool, making your cleansing system more efficient.
Do this:
Use almond oil for salad dressings. It is a good way of consuming the oil.
But make sure that you are taking sweet almond oil. Also remember, too much of anything is not good for health.
16. Almonds to Boost Memory
Ayurvedic practitioners have for hundreds of years recommended taking soaked almond in the morning to improve memory. Modern day science agrees to this. Almonds contain L-carnitine and riboflavin that makes the brain work better and store memory more efficiently. Its phenylalanine chemical will strengthen your nervous system. It can transport lipids efficiently. The brain needs this to maintain the health of neurons.
Get this:
Almonds- 4-6
Water- 1 bowl
Do this:
Soak the almonds in water overnight
In the morning, discard the water and eat the almonds on an empty stomach
Do this daily
Raw almonds have natural oil in it. You may also have almond oil instead of almonds. Use the oil in salads and veggies.
17. Improve Bone Development of Babies with Almond Oil
Almond oil is miraculous for the joints of babies. Simply massage the joints to improve blood circulation and make the bones stronger. Almond oil contains Vitamin D, which is needed for calcium absorption. Calcium is very important for newborns as the bones have to be strong, and must develop quickly. The skin of your baby will also be soft when you massage with the oil.
18. Almond Oil for Muscle Stress and Pain
Any massage is therapeutic. But it is even better if you get a massage with almond oil because it can offer you relief from pains and muscular aches, thanks to all its minerals and micronutrients.
Do this:
Just take a couple of teaspoons of almond oil and heat it.
Now massage the oil thoroughly all over the body. Make sure that it doesn't get into the eyes.
You will get almost immediate relief from muscular or joint pains because of the analgesic properties of the oil.
19. Almond Oil for Weight Loss
A diet rich in almonds can help you get rid of those excess pounds. Many research studies have indicated that people who consume almonds can lose weight faster than those who take the same foods, but without almonds.
Almonds are rich in fat, and so the popular misconception is that taking them will lead to weight gain. The healthy fats in almond will not cause weight gain. It will help you actually lose weight.
Almonds are rich in fatty acids like the omega 9, omega 6 and omega 3 that are healthy fats useful for the body.
The mono-saturated fats in almonds reduce body mass index (BMI) by targeting the fat stored in your abdominal region. It can thus reduce belly fat too.
However, don't have too many almonds or fried almonds. Have them raw or roasted. If you want to have almond oil, have it instead. Use it as a salad dressing.
What you need is a balanced diet and not low-fat foods because you have to feel satisfied after eating.
20. Almond Oil for Psoriasis and Eczema Cure
Psoriasis and eczema are both caused because of the body's reaction to internal and external triggers. What you see are itchy and dry patches on the skin. It becomes worse when you scratch. The crusty deposits look bad. It can bleed too sometimes. Besides, there can be fungal and bacterial infections, which will complicate matters.
You can prevent itching by keeping the affected region hydrated. Almond oil will help you here. This mild, hypoallergenic oil will moisturize your skin. The irritation will be gone as a result.
Do this:
You can apply the oil topically on the affected region.
You may also mix almond oil with another essential oil to get better results. Jojoba oil is a good option. The protective layer will be long-lasting. But remember, jojoba oil is very strong, so you must always dilute it will almond oil. Never apply it alone.
The mixture of almond oil alone will prevent moisture loss. The protective layering will also prevent microbes and allergens from entering. Thus, you prevent flare-ups of these skin diseases.
Sure enough, there are plenty of amazing almond oil health benefits and almond oil beauty benefits. So try to take the oil in any way you can. Use it as a cooking medium. Use almond oil as a salad dressing. Apply the oil to your face and hair. Go for an aromatherapy massage with almond oil. You will love it, and the oil will work well for your body and health.