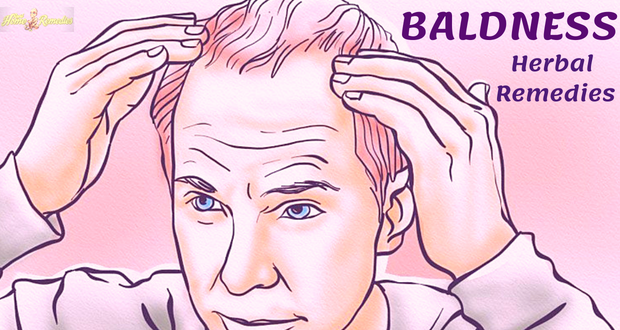 You know it by the name of baldness and your doctor calls it alopecia. By whatever name you call this severe hair loss, the bald patches on your head certainly don't look good. If you are a male, your chances are far higher than your women friends to go bald. Now if you are that carefree, happy-go-lucky type of guy who doesn't bother about baldness, you are blessed. You don't need to do anything. Afterall, baldness is not something which is life-threatening or that can play havoc with your life. Many people live happily with their baldness, some who even go bald in their 20s. However, if you are not such a person and get conscious about skinny things peeping out of your beautiful hair, you will gradually lose confidence while in public. For you, it is a must to get rid of baldness. There are many treatments, expensive ones too, to cure your baldness but when you can do this with the easy and cheap home remedies, why spend so much of money? Here I'll give you many effective home as well as herbal remedies for baldness that you can choose and apply as per your convenience.
Herbal Remedies for Baldness
1. Old Olive Oil, Still Effective
Olive oil is a great remedy for all types of hair loss prevention, including baldness. You may use olive oil for baldness cure in one of many ways mentioned here.
Make olive oil hair pack
You will need:
• Olive oil – As per your hair, less for short hair, more for long hair
• Honey – 1 to 2 Tsp
• Cinnamon powder – 1 Tsp
Directions:
• Warm the olive oil.
• Add honey and cinnamon powder and mix well.
• Apply it on your scalp and hair.
• Leave for about 15-20 minutes.
• Wash with a mild shampoo.
• Do it twice or thrice a week.
Use Olive oil with cumin seeds
You will need:
• Olive oil- Half a cup
• Cumin seeds- 1 tsp
Directions:
• Take the olive oil.
• Add cumin seeds in it.
• Leave for 10-15 minutes.
• Rub this oil on your bald patches gently for 5-10 minutes.
You can even store olive oil mixed with cumin in a bottle and use it daily for faster results.
Overnight olive oil treatment
If you are thinking that your bald patches will vanish in a night, you are wrong. You have to leave the oil in your hair overnight. That's it. Massage your scalp every night with olive oil before going to bed and wash off next morning. Don't forget to place a towel on your pillow though to save it from getting oily!
2. Fantastic Fenugreek, Fabulous Hair Growth
Fenugreek has long been used for baldness treatment. There are two ways to use this spice for your hair loss problem.
Fenugreek Paste
• Take 1-2 tablespoons of fenugreek seeds
• Grind them to make a paste.
• Apply this paste on your bald patches.
• Leave it there for about an hour.
• Wash off with water.
• Repeat twice or thrice a week.
Fenugreek in Coconut Oil
You will need:
• Fenugreek seeds – 1 teaspoon
• Coconut oil- enough for your hair
Directions:
• Heat the coconut oil.
• Add fenugreek seeds in it and fry it for a couple of minutes.
• Let it cool if it's summer otherwise strain the oil when it is still warm. In winters, coconut oil tends to get in solid form.
• Rub this oil gently on your scalp and hair.
• Massage gently in circular motions to help the oil reach the hair roots.
• Leave for half an hour.
• Wash off with a mild shampoo.
It's better to massage your hair with this oil twice or thrice a week before you take shower.
3. Healthy Hair with Henna
Henna is a fabulous herb that has been used since ages for conditioning hair. Mixed with mustard oil, henna can also cure your baldness.
You will need:
• Henna leaves- 100 gm
• Mustard oil- 250 gm
Directions:
• Boil the mustard oil.
• Add henna leaves and let it boil for some more time.
• Cool it down.
• Strain and store in an airtight bottle.
• Massage your scalp and hair with this oil every day.
4. Ordinary Onion, Big Magic
Onion has been recognized as a remedy for greying hair but it is also beneficial for growing hair. Many researches have found that onion juice not only cleanses the scalp and hair follicles but also promote thicker hair follicles due to its capability of producing catalase (a natural antioxidant compound). Here are the ways to get maximum benefits of onion for curing your baldness.
Make onion juice
• Peel off the onion's outer part.
• Separate its inner red part from which you will extract the juice.
• You may use a mixer to extract the juice or may grate it or even use hands to squeeze out the juice.
• Filter the resultant liquid to remove all the solids. You may use cloth or a sieve for the purpose.
• Apply the pure onion juice to your scalp only.
• Massage the scalp gently for about 10 minutes.
• Wash off with water.
• Your head may stink a little due to raw onion's not-so-good smell.
• You may use a mild shampoo to wash off your hair.
Honey and Onion
Onion, when mixed with honey too, helps you get rid of baldness. Just mix enough honey with onion juice and rub your bald patches with the mix. If you don't want to extract the juice of an onion, you may also rub the bald patches with onions cut into half. After rubbing with onion, rub the bald patches with honey. Wash with water thereafter.
5. Look for Lemon Seeds and Peppercorns
Increasing blood circulation on the scalp can also help you grow hair on your bald patches. Seeds of lemon and peppercorns do this work effectively.
You will need:
• Seeds of 7 lemons
• 10 black peppercorns
Directions:
• Take the seeds of lemon and peppercorns, crush them
• Apply them on your bald patches.
• Leave for about 10-15 minutes.
• If they feel very dry, use little lemon juice, just enough to bind them.
• You may feel little itchiness and irritation but do not discontinue.
• For better and faster results, apply this twice a day for few weeks.
6. Cool Camphor Oil
If you have lost hair due to stress and anxiety, this remedy with camphor oil can bring hair back to your bald patches. Camphor has great antiseptic, anti-inflammatory, anti-bacterial and anti-fungal properties. It is a natural relaxant that relieves you of stress and nervous tension and helps you calm down. Camphor oil stimulates additional blood flow to your scalp when you massage with it helping it reach your hair follicles. It not only makes your hair healthy and shiny but also assists in re-growth of hair. Just add quite a few drops of camphor oil to your regular hair oil (coconut oil is good for hair) or hair care lotion and use this for massaging your hair daily to see new hair on your scalp in few weeks.
Special Herbal Remedies for Baldness
There is this alternative therapy used to get rid of baldness. It is called Phytotherapy which uses certain plants to treat hair loss and baldness. Three types of plants are used for phytotherapy.
• Plants which inhibit enzymes transforming testosterone into dihydrotestosterone (DHT) responsible for hair loss.
• Plants that avoid stress and anxiety, yet another cause of hair loss.
• Plants providing essential minerals and vitamins for healthy growth of hair.
These types of plants are used for making capsules and extracts etc. Some of them are suggested to be had as salads or other food items. Let's have a look at these plants and herbs for curing your baldness.
7. Superb Saw Palmetto
Saw palmetto found in North America has been used by Native Americans as a remedy for many diseases including hair loss. It is believed to block an enzyme that converts hormone testosterone into dihydrotestosterone which leads to androgenic alopecia- the typical hair loss from the top of the head or around the temples.
You can take saw palmetto extract by determining the correct dosage after consulting our doctor. It should range from 160 mg. to 320 mg based upon your body weight. As it transforms both testosterone and estrogen hormones, those having medical conditions like breast cancer should strictly consult their doctors. People taking blood thinners or those who are haemophiliac should also avoid having seen palmetto herb.
8. Heavenly Remedy with Hibiscus
Hibiscus too has been used as traditional medicine for hair loss in many regions of the world. You can either have a tea made of dried hibiscus petals or make a concoction to apply to your scalp.
Make Hibiscus Concoction
You will need:
• Coconut oil
• Curry leaves
• hibiscus flowers
• Gooseberry (Amla)
Directions:
• Boil coconut oil, curry leaves, hibiscus flowers and amla.
• Let it cool down.
• Strain the oil.
• Massage your scalp and hair with this oil
• Leave for 30 minutes.
• Wash off.
• Do it daily for better results.
You may also boil hibiscus in some water and mix lime juice in it to apply to your bald patches after straining the liquid. After leaving it there for some time, wash off with water.