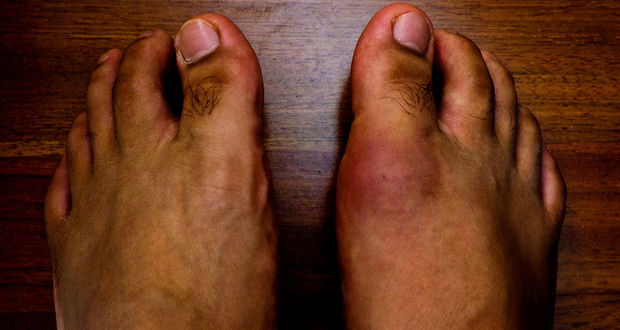 Gout- it's painful! You know that. Either you have acute gout (only at one joint) or chronic gout (multiple joints), you need to relieve yourself of that painful lump. Even better if you can avoid those gout flare ups that stay for days and weeks. Medicines haven't proved to be the magical pills. They only suppress the symptoms, the pain and the swelling just letting them come again and again. So, what's the way out then? Home remedies and certain changes in diet and lifestyle. Here I give you a list of really effective home remedies for gout. Following them will not only avoid your gout flare ups but eventually treat your gout too.
1. Drink, Drink, Drink Water!
Uric acid in your blood is the culprit. The excessive uric acid that can't be excreted out of your system by your kidneys not only forms kidney stones but also leads to gout by crystallizing itself at the joints. The pain and swelling at your big toe or at heels, ankles, knees and elbows are caused by crystallization of this excess uric acid only. So, its better to expel it out of your body before it gets a chance to crystallize. For this, you have to drink a lots of water. Water in your case or anyone who suffers from gout, is the elixir of life! Make it a habit of drinking a glass of water every 30-40 minutes. You can even have other healthy beverages like coconut water, lime juice and fruit juices. If so, you may keep your water intake somewhat low but ensure that whatever amount of fluid you are having during the day, half of it should be water.
2. Munch on Cherries
Cherries are the second best home remedy for gout, after water. Why? Because cherries have in the 'anthocyanins' known to heal pain, inflammation and tenderness of joints.
Ways to have cherries during the day:
Just for your help, these are some of the ways in which you can have lots of cherries to treat your gout.
Have cherries (sweet or sour- both can work) before breakfast.
Make juice with cherries and a few cloves of garlic to get relief from inflammation and joint tenderness.
Just munch on cherries. Have 6-10 cherries during the day.
Drink a glass of cherries juice once a day.
Have anything cherry- cherry pie, cherry compote, cherry juice, cherry jam, cherry tea! Just consult your doctor if you are diabetic or have any other grave medical condition before having them in abundance.
Have concentrated juice of black cherry at regular intervals, twice or thrice a day to get relief from gout pain.
Along with cherries, you may also have other dark colored fruits like blackberries, blueberries, purple grapes and raspberries etc.
You may even have cherry in vitamins form if you don't like to munch on this fruit.