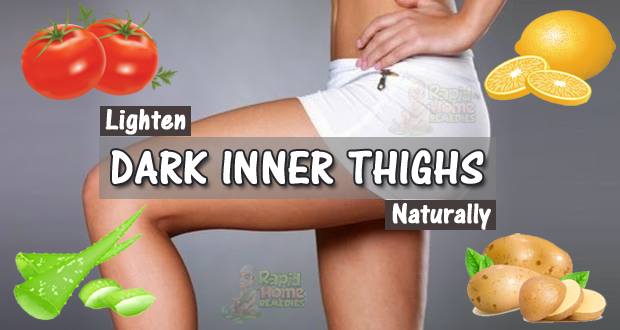 If you often get embarrassed by the dark skin on your inner thighs, don't think you are alone. Dark inner thighs are common, both among women as well as men. Even people with fair skin experience this problem of dark inner thighs. However, dark inner thighs remain one of the ignored conditions because generally people don't show off their thighs but getting rid of dark inner thighs become essential for those who love wearing short dresses. This is not the only reason why you should get rid of darker inner thighs. They may also indicate something wrong inside your body. And you must also know that those who have dark or black inner thighs are more likely to have dark underarms too, probably for the same medical causes.
So, what are these causes and how to lighten your dark inner thighs?
What Causes Dark Inner Thighs
Surprisingly, there are many factors that lead to dark inner thighs. It includes medical conditions, lifestyle factors and side-effects of cosmetic treatments. Dark inner thighs are nothing but hyper pigmentation. It is neither caused by poor diet nor an infection due to some sexually transmitted diseases.
The major causes of dark inner thighs include the following.
1. Obesity and overweight
Obese people are prone to have dark inner thighs as when they walk, the thighs rub against each other. It creates a friction on the delicate thigh skin and affects the skin there. It also happens in people with heavier thighs in spite of having an average or well-built body.
2. Too much exercise
When you involve in exercising too much, it affects the skin just like obese people. Rubbing of skin leads to dark inner thighs. Also, working out too much leads to sweating between the thighs, which affect the skin.
3. UV rays or Sun exposure
Those who love tanning or sun bathing while wearing a bikini on a beach are more likely to suffer from dark inner thighs. Although tanning through sun bathing provides gorgeous bronzed skin, many a times, it affects the parts with delicate skin, which includes inner thighs.
4. Bikini hair removal
Many young women who develop dark inner thighs are more likely to be the victims of the bikini hair removal methods. Inappropriate shaving or wrong bikini hair removal techniques certainly lead to darker skin on thighs, butt and back.
5. Use of chemical products
Again, this is associated with hair removal techniques as well as other skin products containing harmful chemicals that may darken the skin at inner thighs.
6. Hormonal Changes
Women are more prone to dark inner thighs and dark armpits due to hormonal changes. Puberty, pregnancy, menstruation and menopause etc. lead to a lot of changes in the skin. Dark inner thighs are somewhat unavoidable during pregnancy and menopause.
7. Poor hygiene
On a whole, poor hygiene is one of the major causes of dark inner thigh. When it comes to skin problems like acne, pigmentation, dark inner thighs, dark neck, etc. in men, poor hygiene and lack of skin care have been found as the major causes.
8. Insulin resistance and diabetes
When you suffer from insulin resistance, it affects your skin too. You not only develop dark skin on your inner thighs, but also on your back, armpits and neck.
9. Side-effect of medications
There are certain drugs that affect the skin tone and lead to pigmentation at different areas of your body one of which might be the inner thighs.
Natural Remedies to Lighten Dark Inner Thighs
When it comes to any type of skin conditions, most of the ailments can be improved to some extent with natural and home remedies. Although many promising cosmetic treatments are available to treat an array of skin conditions, natural remedies are always safer alternatives.
Most of the natural remedies and home remedies to lighten the dark inner thighs are somewhat similar to skin lightening remedies. Before going to cosmetic treatments or skin treatments, try the natural remedies to get rid of your dark inner thighs.
However, the skin at the inner thighs is delicate and you should be a little bit more careful in choosing the ingredients in order to avoid skin irritation.
Lemon – A Natural Skin Lightener to Treat Dark Inner Thighs
When it comes to skin lightening, it is impossible to go past lemon! Lemon is a natural skin lightener and a bleaching agent. It is a folk remedy which is very effective and of course, cheap. It is a proven remedy for lightening skin that is being used for ages. Lemon is used to treat pigmentation of the skin and uneven skin tone. Regular application of lemon on darker skin tone or pigmented skin enhances the skin color and reduces pigmentation.
Lemon can be used in many ways to treat the dark inner thighs. Following are the few ways to use lemon to lighten the dark inner thighs.
1. Plain Raw Lemon to get rid of Dark Inner Thighs
Lemon can be best used in natural form without adding any ingredients. You can use the fresh lemon juice or lemon slice to reduce the pigmentation.
Take one or two fresh lemons and squeeze the juice
Apply the juice directly on the darker thigh skin
Wash the skin after 20 minutes
Or
Cut lemon into halves or into round slices
Rub the lemon slice directly on the pigmented areas for 5 to 10 minutes.
Let it dry and wash it after 20 minutes
Try this remedy regularly and you will find improvement in few days.
2. Lemon Spray for Dark Inner Thighs (For Sensitive Skin)
Getting the lemon in a spray form eases applying the juice on the skin.
Get this:
A small spray bottle
Two fresh lemons
Water
Do this:
Get an old spray bottle and squeeze the lemon juice into the bottle.
Add equivalent amount of water.
Shake the bottle well.
Just spray the lemon on the dark thighs.
Wash it off after 15 minutes.
3. Lemon lotion for dry and dark inner thighs
If you have extremely dry skin in addition to dark inner thighs, try adding glycerin to the lemon juice.
Get this:
Fresh lemon juice
Glycerin
Cotton ball
Do this:
Add glycerin and lemon juice in equal parts and mix it well.
Soak a cotton ball in the solution and apply to the pigmented area.
Rinse off after 20 minutes.
General precautions when using lemon
Lightening the dark inner thighs merely with lemon works and provides promising results, yet it may take some time. Citric acid is the core component that helps lightening the skin. So, to make it work faster, you can add lemon with other ingredients and take some other precautions. Here are some tips for you.
Reduce sun exposure. It is better to avoid wearing short dresses right after applying lemon to your dark inner thighs.
Don't get any cosmetic treatment before or after using lemon juice on inner thighs
Try any one of the remedies that has lemon, only once a day.
If you use raw lemons, try the remedy every alternate day, especially if you have very sensitive skin
You can apply moisturizer after washing thighs
Don't keep the lemon juice too long on your skin, even if you use lemon as a carrier or with other ingredients like water, rose water and glycerin. Wash it off in a maximum 20 minutes.
Who shouldn't apply raw lemon on dark inner thighs?
Although lemon is one of the best and a very simple remedy for pigmented thighs, there are certain restrictions to use lemon.
Don't apply raw lemon juice or rub the slices if you,
have very sensitive skin
recently had any hair removal treatment at your bikini line
shaved your hair recently
Potato – The Starchy Veggie is a Skin-friendly Ingredient for a Fair Inner Thigh
Potatoes aren't just a delicious, energy giving and starchy vegetable. Raw potatoes have a lot of medicinal as well as cosmetic properties. Applying the juice of raw potatoes helps you get rid of puffiness and dark circles under eyes. An amazing fact about the potato is, it is rich in vitamin C and contains natural bleaching agent (not the citric acid found in Vitamin C) which reduces hyper pigmentation of the skin.
Potatoes are relatively safer to apply on delicate thigh skin. Potatoes improve skin complexion faster than any other home remedies. You can apply potatoes on any type of skin. It doesn't harm your skin and can be used twice a day or daily until you can find the desirable effects.
Just like cucumber, a slice of raw potato is applied on the facial skin to reduce puffiness, especially, puffy eyes. Potatoes also tighten saggy skin. And of course, you can use potatoes to lighten your dark inner thighs.
How to use potatoes to get rid of the dark inner thigh 
Get this:
Raw Potato – 2
Peeler
Grater / Juicer
A thin cloth / Sieve
Cotton ball
Do this:
Peel the skin of raw potato
Shred the potato using a grater
Crush the grated potatoes and extract the juice through a thin cloth or sieve
Soak the cotton ball in this juice and apply the juice generously on your dark inner thighs
Wash the skin after 30 minutes
Or
Peel the skin
Cut the potato into small pieces
Juice the cubed potatoes
Extract the juice with a sieve
Soak the cotton ball, apply it and wash the skin after 30 minutes
Tips to use potato for dark inner thighs:
Wash and pat the inner skin dry before applying potato
Since potatoes are starchy, once the juice become dry, it appears like a white deposit on your skin. Just wash it off with lukewarm water.
Tomatoes to reduce hyper-pigmentation of the inner thighs
Tomatoes are yet another overlooked remedy for pigmented skin. Both, external application as well as oral intake of tomatoes act like a natural sun block. It has the properties to fight against UV rays. Tomatoes don't work like a bleaching ingredient but address the pigmentation issue and enhance your skin tone. Tomatoes are good to use on various skin types and there are no side effects too.
How to use tomatoes for dark inner thighs
Grind the fresh tomatoes and apply the juice (a thicker consistency) on the darker skin
Cut the tomatoes into halves and rub it on your skin if you don't feel comfortable to apply the tomato pulp
Yogurt – Antibacterial and skin soothing remedy for dark inner thighs
Yogurt has healthy bacteria, which is essential for the body. Topical application of plain yogurt or curd cleanses the skin and removes bacteria. It also has nourishing properties on the skin.
How to use yogurt for dark inner thighs
Apply plain yogurt on the pigmented inner thighs
Wash it off after 15 minutes.
Combination of various ingredients to lighten the dark inner thighs
Coconut Water – Lightens dark inner thigh topically as well as from internally
Coconut water not only keeps your electrolyte balance in the body intact, but also nourishes your skin. Regular intake of coconut water keeps your skin rejuvenated. You can also apply the coconut water for mild pigmentation of the inner thigh.
Ways to use coconut water for dark inner thighs
Drink coconut water daily once or twice
Apply coconut water over your dark inner thighs. You need not wash it off. If you feel like, wash the area after 30-40 minutes.
Use coconut water as carrier for lemon juice. Mix lemon juice with coconut water if your skin is too sensitive before applying it on your dark inner thighs.
Sandalwood – Cool, soft, soothing and skin lightening properties
Darker inner thighs, many times irritate the skin, especially when it is cause by rubbing of skin. You may feel some burning sensation in your inner thighs. Applying sandalwood reduces the skin irritation and also improves the pigmentation.
Sandalwood is one of the ingredients that make the skin extremely soft, cool and supple. It has amazing skin soothing properties. Also, applying sandalwood paste enhances the skin complexion just after a single application.
Make a paste out of sandalwood powder by adding water
You may also rub the sandal wood on a stone using some water to get its paste
Apply it on the dark inner thighs.
You can just leave it on your skin or wash it after 30 minutes.
It provides relief from irritation and cools down the skin.
This is an effective remedy for dark inner thighs developed due to obesity or excess weight, where the skin constantly rubs against each other.
Aloe vera – Soothing Gel with Vitamins and Anti-oxidants
Aloe vera is a popular plant with miraculous healing properties. The gel in the aloe vera contains a lot of anti-oxidants and vitamins. The plant grows only when it has sun exposure. The gel is formed by absorbing the vitamin D from the sun. It helps heal many topical skin problems. Aloe vera gel also contains skin rejuvenating and tightening properties. All these properties go to make aloe vera one of the very good remedies to lighten dark inner thighs.
Extract the gel from fresh aloe leaf or buy the gel from store if you don't have access to aloe plants.
Blend it well and apply on the dark inner thighs.
Wash it off after 30 minutes.
Homemade Masks to Get rid of Dark Inner thighs
Combining two or more ingredients to reduce skin pigmentation provides quicker results than using a single ingredient. You can mix the below ingredients and apply on your dark inner thighs to lighten them naturally.
Take the ingredients in equal parts to make masks:
Lemon and Honey– To avoid skin irritation, you can use honey with lemon and apply on the inner thigh.
Yogurt, lemon and Honey – Take equal portions of all three ingredients and blend it well before applying to dark inner thighs for quick results.
Potato Juice and Honey – A cleanser cum skin lightening remedy which works excellently on dark inner thighs too.
Oatmeal and Potato – Exfoliate your skin by mixing oatmeal powder and potato juice. This will slough off dead skin cells and the skin lightening properties of potato juice will give you fairer thighs.
Potato juice and vinegar – Dilute the vinegar by mixing it with potato juice. Vinegar has skin lightening properties. However, it is better if you don't use it directly on skin, especially if you have sensitive skin. Dilute the vinegar in potato juice before applying to your dark inner thighs.
Many people feel a bit awkward or experience some sort of discomfort when applying skin packs on inner thighs. If so, you can make the above masks watery or semi-solid. This enables easy application and removal of skin packs from the dark inner thighs.
5 Steps to Get Rid of Dark Inner Thighs
Unless you developed pigmented skin due to hormonal imbalance, you can get rid of dark inner thighs with simple solutions. Here is your five step solution to lighten your dark inner thighs.
1. Exfoliate the skin
Whether it is a facial skin or skin on your back or legs, arms or thighs, dead cells are found everywhere. Removing the dead cells keeps your skin fresh, youthful and soft. Many individuals with dark inner thighs are more likely to have rough skin. Exfoliating the darker skin makes it soft and provides faster results when you also use certain other remedies for skin lightening. You don't need to buy any expensive exfoliating products to soften the inner thighs. Oatmeal, sugar etc. are effective too.
Exfoliate the skin, the sweet way – Sugar
Sugar is very cheap, safe and powerful skin exfoliator. Rubbing sugar on skin removes the dead cells and enables generation of fresh skin cells.
Add a few drops of water to a few teaspoons of sugar.
The consistency of the sugar syrup should be grainy.
Rub the sugar on the skin of thighs for a few minutes (about 5 minutes) and pat it dry
Instead of water, you can also add lemon juice or honey to make the natural exfoliator.
Wash the skin and apply a thin layer of coconut oil or olive oil to hydrate the exfoliated skin.
Oatmeal – Scrub the inner thigh to lighten the skin
Owing to the health benefits of oatmeal, almost everyone store oatmeal at home. Oatmeal makes an inexpensive and very effective scrubber to exfoliate skin.
Take two scoops of oatmeal and mix with water (alternatively, you can use milk, honey, coconut water or lemon juice) to make a grainy paste.
Rub the oatmeal paste on the pigmented thigh skin.
Rinse after 15 minutes.
Pat it dry.
You can try this every alternate day to get the best results.
Don't choose any flavored oatmeal!
2. Moisturize the Skin
Skin is the sensitive organ of your body. If something goes wrong in your body, it reflects on your skin. You have to make sure that skin remains moistened to avoid many skin problems. Dry skin is more prone to pigmentation. So, keep your inner thighs moistened. You can use two ingredients to moisten the dark thigh skin.
Coconut oil – A natural and most effective moisturizer
Coconut oil contains a lot of nutrients which are absorbed easily. Coconut oil also reduces the friction between the thighs, which prevents further darkness. Apply coconut oil on the thigh skin generously and massage for 10 minutes until it is fully absorbed in the skin. If oiliness remains, wipe it off with a soft cloth or tissue otherwise skin will rub and give rise to further problems. You can do this regularly at home. Try this at night before going to bed.
You don't need to wash the skin if you apply coconut oil.
Honey – The wonder for skin
Honey is one of the best gifts provided by the Mother Nature. Honey is a powerful cleanser and heals irritation of the skin. Applying honey on the pigmented thigh skin reduces skin irritation and also cleanses the skin as well as removes the impurities. It gives a good texture to your skin.
Massage the thigh skin with honey (don't apply too much honey). Just two teaspoons are enough.
Let it dry for around 15 to 20 minutes.
Wash the skin with lukewarm water.
Make sure you don't fall prey to the ants!!!
3. Soothe the irritated dark skin and reduce pigmentation
The skin should be soft and supple enough to absorb the topical remedies or creams. There are many natural ingredients that can reduce the irritation of inner thighs and makes it soft and also lighten the pigments. Applying any of such ingredients after exfoliating will help them easily absorb into the skin. You can use sandalwood and aloe vera as explained earlier in the remedies for dark inner thighs.
4. Keep the dark thigh skin lubricated to stay comfortable
When you have pigmented inner thigh, the skin obviously becomes dry or vice versa. So, you should make sure to keep the thigh skin lubricated to avoid further damage. You cannot apply oil all the time as it is greasy.
Use petroleum jelly to keep the skin lubricated throughout the day.
You don't feel uncomfortable when you use it. Just apply a thin layer of it on your skin.
It is very light on the skin and keeps the skin hydrated and lubricated at least for a few hours.
Go for plain Vaseline.
You can also apply glycerin on the pigmented areas in your thighs. It hydrates the skin well. Mix it with some rose water before applying on your skin.
5. Control perspiration
Sweating is very common in many individuals. Due to layering of clothes, sweating is unavoidable during winters too! Even if your sweating is mild on inner thighs, it affects the delicate skin. The only way to control the perspiration is applying talcum powder. It is an old practice, yet proven to be effective.
Use baby powder which doesn't clog pores and controls perspiration on the inner thighs. This prevents further pigmentation.
These were the five basic steps to lighten the dark inner thighs. Combine any natural remedy with this five-step process to get rid of the dark inner thighs in a few weeks.
Skin Treatments to Lighten Dark Inner Thighs
If you are skeptical about using the natural or home remedies to lighten the dark inner thighs, consult a dermatologist. Generally, the skin care professional may prescribe you skin lightening creams to reduce the pigmentation. Some of the creams prescribed by dermatologist contain alpha hydroxide, hydroquinone, etc. as major ingredients.
You can also get a prescription for vitamin E cream or oil to apply on pigmented areas.
You can ask for organic and herbal creams to reduce the pigmentation.
Don't buy any skin lightening creams without a medical prescription, as this might damage the skin.
Simple Lifestyle Tips to Lighten Dark Inner thighs
Reduce the friction between the thighs
As mentioned above, a lot of factors lead to friction in the thighs, which causes frequent touching and rubbing. The sudden friction damages the outer layer of the inner thigh skin, which leads to discoloration.
How to reduce friction?
Friction of the thighs happens unknowingly, just as a blink of an eye, without our knowledge. The major thing that can avoid friction is by reducing the size of the thighs, by losing leg fat. This makes sure that the thighs don't rub on each other.
Wear appropriate clothing and innerwear
Your choice of outfits, especially innerwear fabric counts a lot when it comes to inner thighs. It is recommended to go for high quality fabrics that soothe your skin. Beyond hygiene, you should go for skin-friendly fabrics to avoid skin irritation.
Synthetic clothing, tight pants, skirts and jeans don't allow the skin to breathe. In addition, they also lead to excessive sweating, which in turn affect the skin tone and texture.
Wear breathable fabrics like cotton.
Don't wear too tight pants; it also leads to friction between the dress and the thighs.
Especially when you drive, don't wear tight outfits.
Wear comfortable and loose clothing at night.
Hydrate from inside out
When it comes to staying hydrated, there is nothing more powerful than drinking adequate water. Drink a lots of water to stay hydrated, which also prevents skin dryness.
Stick to hygienic practices
Hygienic practices safeguard your skin. Just like you wash your face, wash the genitals and inner thighs. Keep the skin clean and use mild soaps.
Follow a healthy skin care regimen. Clean all your body parts, including thighs.
Start your workout or exercise regime at a slow pace. Sudden onset of vigorous exercise may damage your skin.
If required, lose weight. Losing weight is the best solution to avoid friction between the thighs.
Not all remedies and treatments provide similar results for everyone. The results may vary. You may need to try a combination of solutions and follow healthy regimen to lighten your dark inner thighs.